Darth Vader visits Cordes Lakes Library
Originally Published: May 16, 2019 9:32 p.m.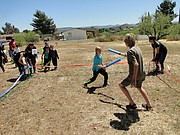 The children were on their best behavior Saturda y, May 4, as they awaited the arrival of Darth Vader at the Cordes Lakes Library.
Susan Lapis, Mayer librarian, started the event by reading an interactive story with Darth Vader. Afterward, Vader took time to answer the many questions the children had. Picture time followed, allowing the parents to either be in the picture with their children or to take the pictures themselves.

And this was only the beginning. Each child could go through an academy. It started with a walk framed with pictures of characters from the Star Wars universe, and the children had to name each one. Next came transiting the laser field, and then to the station to make their light saber. The smaller children could just color their robot at the robot station.
Outside was an arena where matches were held with the light sabers, as well as a bean bag toss, popcorn and peanut station and more games.
With the overflowing library, it was a good thing there were many things set up for the children. We can't wait for the addition to be done so, hopefully, we can all fit inside.
A big thank you to Darth Vader for his patience with pictures so no one went home without one.
More like this story
SUBMIT FEEDBACK
Click Below to: