Yavapai Superior Court adoption day sees 21 children get homes

Originally Published: May 14, 2019 9:34 p.m.
Sixteen families adopted a total of 21 children during Yavapai County Superior Court's spring Adoption Day event on Friday, May 10.

The court approves adoptions throughout the year, but twice a year it hosts an Adoption Day, in which a number of adoption cases are approved consecutively over several hours.
The atmosphere on Friday was festive with the courtroom decked out with balloons, stuffed animals, books and handmade quilts donated by Mountain Top Quilters and the Thumb Butte Quilters. The book each child received was "Oh, the Places You'll Go," courtesy of the Prevent Child Abuse Program.
This carnival-themed event was filled with festivities for the children and families, including two bouncy houses, hotdogs, cotton candy, games and a balloon artist named Cody Williams, according to a news release.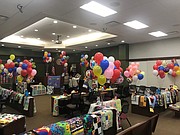 Joyous tears flowed for those who were being adopted into their forever homes in a courtroom that was filled to the brim with people for this momentous occasion, said Yavapai County Superior Court Deputy Court Administrator Shelly Bacon.
"This is one of the largest events we've put on to date," Bacon said. "It seemed there wasn't a dry eye in the house each time a family welcomed in a new member. The children's faces just beamed with pride and excitement as they were officially made a part of the family that loved them for who they were. The court doesn't see a lot of happy times so this event is a very special one because people are excited and happy to come see us."
Presiding over the light-hearted court proceedings were judges Debra Phelan, Rhonda Repp and Anna Young.
"[We] had a great time helping the children become a part of their forever families," Young said. "And in a personal first for me, one little girl had me sign certificates making her stuffed animals (who were listed by name) officially a part of her new family. It was a wonderful event and the families were so thrilled to be a part of it."
As usual, sponsoring the event was the Yavapai CASA for Kids Foundation, which strives to serve the unmet needs of abused, neglected, and abandoned children who are in the care of the Yavapai Juvenile Court in Prescott.
"I love being able to celebrate with children and families on their special day," said CASA Manager Quinci Castleberry. "So often a person's interaction with the courts is negative and, on this day, it's all positive and everyone is smiling."
More like this story
SUBMIT FEEDBACK
Click Below to: