Pine Lakes gas outage expected to last months for some residents
Affected residents getting rent discount

By
Max Efrein
|
mefrein
Originally Published: May 14, 2019 2:26 p.m.
Some residents of Pine Lakes will have to wait several months before being able to use their gas-powered appliances, turn on their centralized heaters, or take hot showers in the comfort of their own homes.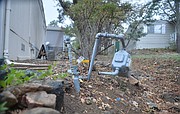 A gas leak that forced property managers to shut off gas to 90 of the retirement community's 315 mobile homes on May 2 has turned into a major operation, according to an email sent to impacted residents on Tuesday, May 14.
"The good news is that we have some specificity around next steps and a rough timeline for when we can expect to get the remaining homes without gas back online," Pine Lakes' Community Manager Tammy Miles wrote in the email. "The not so good news is that full restoration of gas service is going to take longer than anyone expected."
She explained that the community's rocky terrain and "a limited number of certified crews available to do this work" is making it very difficult to resolve the situation in a timely manner.
Efforts by the Courier to reach Miles for direct comment by phone on Tuesday were unsuccessful.
As it stands, gas has been restored to 29 of the affected homes. The remaining 61 have been placed on a work plan schedule, which indicates that service will next be restored to 31 of the homes in about 30 days, and the rest will follow in chunks over a number of months. No estimate has been made as to exactly when they hope to have every home back online.
RENT DISCOUNTS
While residents of Pine Lakes own their mobile homes, they lease the land.
For some, that base rent is upwards of $1,000 a month, said Suzie Barrett, who was impacted by the gas outage but saw her gas service restored Thursday night, May 9.
"I think the cheapest one here is close to like $700," Barrett said.
According to the email, residents who are affected by the outage will be given a 25% discount on their rents for every day that they don't have service, going back to when they lost service on May 2.

This replaces a $25 rent credit that previously was offered to the residents before this update, the email states.
Residents who have had their gas service restored already also will receive this 25% rent discount from May 2 until the day service was restored.
"We are also looking into alternate options for supplementing gas service and will be in communication with residents this week about these options," Miles wrote in the email. "We do understand the inconvenience this placed on the residents of Pine Lakes. We are doing everything in our power to restore service as quickly as possible."
Follow Max Efrein on Twitter @mefrein, email him at mefrein@prescottaz.com or call him at 928-445-3333 ext. 1105.
SUBMIT FEEDBACK
Click Below to: