Prescott area trails network growing, improving
Officials give updates, future plans for construction, maintenance

By
Max Efrein
|
mefrein
Originally Published: May 14, 2019 10:12 p.m.
Local outdoor enthusiasts have a lot of new territory to explore.
An overview of what is fresh in the area's trails systems was presented during the sixth annual Greater Prescott Trails Planning workshop on Wednesday, May 8.
Officials from the Prescott National Forest, City of Prescott and Yavapai County government each took the time to let the public know what accomplishments have been made in the last year in regards to trail construction and maintenance, what is currently being worked on, and what's to come in the near future.
The goal of sharing this information every year in a public forum is to allow for community feedback and recruit partners and volunteers who can bring exciting ideas to life, said Jason Williams, trails and wilderness manager for the Prescott National Forest (PNF).
"Without this collaboration over the last six years, a lot of what's been done wouldn't have been done," Williams said.
PRESCOTT NATIONAL FOREST TRAILS
With help from trail user groups like the Over the Hill Gang and Prescott Mountain Bike Alliance, 30 miles of trail has been built over the past 18 months in the Spence Basin area (formerly known as Emmanuel Pines) of the Prescott National Forest.
"That is huge," Williams said. "We don't know of any other communities that are building 30 miles in 18 months."
Located off of Iron Springs Road just outside Prescott's city limits, the Spence Basin trail system is essentially complete after about three years of work. All that needs to be done at this point is building the trailhead, which Williams expects will take six to 12 months to do.
"Since we built that trail system so fast, we didn't expect to have to move so fast on the trailhead," Williams said.
Over the summer, he said they also will be working on building a new 5-mile trail called Williams Peak Trail #738, which shares the White Rock Trailhead on Thumb Butte Road.
Then in the fall, they will concentrate on maintenance of the Blue Hills trails area using an Arizona State Parks grant obtained by Prescott Trail Riders. That trail system is located between Lynx Lake and Dewey. It can be accessed either from Walker Road or the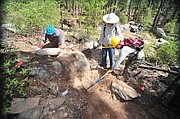 Green Gulch trailhead in Dewey.
They also will be building Hoot Owl Trail in the fall, which will be an 8.5-mile, 50-inch motorized trail along the west side of Walker Road that will connect Salida Gulch to Bannie Mine Road, "creating much more opportunity in that area," Williams said.
Those who wish to volunteer to help on these trail projects — or any other trail projects with the Prescott National Forest — can contact Williams at jwilliams@fs.fed.us or 928-777-2220.
CITY OF PRESCOTT TRAILS
Much of Prescott's trail work this last year has been in the Dells area. Specifically, the Storm Ranch trails, said Chris Hoskins, the city's trails and natural parklands coordinator.
"We've done about 6 miles of trail back there right after the city purchased about a 160 acres from the Storm family," Hoskins said.
More recently, the city has been focused on trail maintenance after a heavy winter, he said.
Next on the agenda for the city is the Ecosa trail, another Dells trail on property owned by the Ecosa Institute, an ecological design certification program that recently joined forces with Prescott College.
Further down the line, Hoskins said the city will be building quite a few trails through the new housing developments that are popping up around the city, and eventually extending the Peavine Trail out to Chino Valley. That extension will serve as part of a much larger project known as the Sun Corridor Trail.
For maps and information on Prescott area trails, go to www.prescotttrails.com.
SUN CORRIDOR TRAIL
Similar to the Arizona Trail, the Sun Corridor Trail will span the entire state, serving as a single-track trail for hikers, bikers and horseback riders.
The defining difference between the two is this project is focused on eco-tourism.
"That means tourism that we want for the green dollars that doesn't cause pollution," said Yavapai County Supervisor Thomas Thurman, who has been involved in connecting Yavapai County to this new trail system.
A brainchild of Marico County Parks and Recreation, the project started as a vision to connect the largest regional trail in Maricopa County, the Maricopa Trail, with the largest regional trail in Pima County, the Tribute Trail, using the planned Central Arizona Project Trail in Pinal County. From there, the concept grew so as to include large regional loops, such as the Prescott Circle Trail, and long linear trails from Las Vegas to the southern border of Arizona.
Once complete, the trail will be more than 1,400 miles long.
"It's going to take a few years to do," Thurman said. "I'm figuring five to 10 years. Anything large like this takes time, but it's well worth it."
Follow Max Efrein on Twitter @mefrein, email him at mefrein@prescottaz.com or call him at 928-445-3333 ext. 1105.
More like this story
SUBMIT FEEDBACK
Click Below to: