Farmers, True Value qualify for Majors city championship
Little League Semifinals
By
Doug Cook
|
dougout_dc
Originally Published: May 14, 2019 11:38 p.m.
PRESCOTT — Top-seeded Farmers and third-seeded True Value have advanced to the Prescott Little League Majors City Tournament championship game after winning their respective semifinal contests Tuesday, May 14, at Bill Valley Field.
Photo Gallery
Holdsworth Chad Fuller Vs Farmers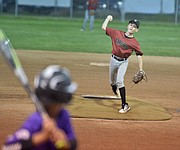 Farmers eliminated fourth-seeded Holdsworth Chadd Fuller, 13-3, and third-seeded True Value knocked out second-seeded Prescott Orthodontics, 14-4.
In Farmers' victory, Ethan Warren started at pitcher and picked up the victory. At the dish, Jacob Patterson, Cooper Magnett and Colton Champion collected two hits apiece.
Photo Gallery
Prescott Ortho Vs True Value
For True Value, Adrian Sanderford started at pitcher and got the win in four innings. Jake Diener came on in the fifth inning in relief and pitched the final two frames to close out the contest.
At the plate, Mike Fallick went 1 for 2 with a three-run triple and a run scored. Diener (2 for 4, four runs scored, three RBIs), Sanderford (2 for 3, three RBIs, two runs scored) and Tommy Richardson (2 for 3, sac bunt, two RBIs, run scored) also had a big evening.
MINORS
Semifinals
#8 Grand Highland 12, #4 Trader Joe's 10
#7 PDBA 11, #6 Edward Jones 5
No. 8 seed Grand Highland, which eliminated top-seeded Barrett Floors on May 6, pulled off another upset on May 14 with its 12-10 victory over fourth-seeded Trader Joe's in the Prescott Little League Minors city championship semifinals.
Grand Highland will face Process Driven Baseball Academy (PDBA), the No. 7 seed that knocked out No. 6 Edward Jones, 11-5, in Tuesday's other semi, in the title game.
Catcher/first baseman Dylan Patterson, pitcher/shortstop Karson Frost, catcher/pitcher Nick Poynor and shortstop/pitcher A.J. Poyner stood out for PDBA in the semifinal victory.
UP NEXT
The city championship for the Prescott Little League Majors Tournament, which pits Farmers against True Value, is scheduled for 7:30 p.m. Friday, May 17, at Lower Vallely Field.
The city championship for the Prescott Little League Minors Tournament, which features Grand Highland versus PDBA, is slated for 5:30 p.m. May 17, at Lower Vallely Field.
Prescott's city champs from the majors and minors will qualify for the Arizona District 10 Tournament of Champions May 31 through June 2 in Chino Valley.
However, True Value will be the majors' representative no matter what happens on Saturday because Farmers will not have enough players to field a team at the Tournament of Champions. Several Farmers players will be competing at another tournament that weekend in Club ball.
Doug Cook is a reporter for The Daily Courier. Follow him on Twitter at @dougout_dc. Email him at dcook@prescottaz.com or call 928-445-3333, ext. 2039.
SUBMIT FEEDBACK
Click Below to: