Sharlot Hall exhibit features art of Willard Page

Originally Published: May 13, 2019 11:40 p.m.
The art of Willard Page, who traveled the West with his wife showcasing his "lightning-fast" artistic style and passion for the natural beauty of the American West is on display at the Sharlot Hall Museum.
Page made a career creating and selling his affordable landscape art, according to a news release from Sharlot Hall Museum Media and Marketing Manager Ken Leja.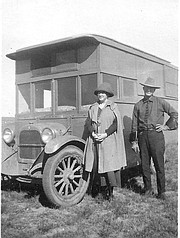 "He brought his wares a casual flair with a hustler's marketing schema unmatched for the time (early 1900s and pre-Depression," the release states. "Ranging from Arizona's Painted Desert to the Grand Tetons, from the Catalina Mountains to the majestic Rockies to the grandeur of the Grand Canyon, Page's work captures the American West during its pristine early 1900s."
On display in the Lawler Exhibit Center Theatre of the museum, 415 W. Gurley St., the exhibit features a more than 45 of his paintings, such as adobe villages, desert landscapes, and mountains of the brooks of the high country.
Additionally, the history of Page and his vagabond artistry, traveling the Chautauqua circuit with his wife, bringing culture and entertainment to the small towns of the country, is available.
"They traveled the West sketching and painting," the release states. "His 'lightning' style was highly popular and entertaining. He built a wide easel where he could paint in an assembly-line style, quickly producing tiny, souvenir paintings that would fit in a suitcase or a store keeper's counter … His production line approach piqued many a weary train traveler's sense of value and keepsake as a visual souvenir of their travels."
Nearly 100 years later, Page's art, and his idea of "Go West!" continues to capture the charm and excitement of discovery with simple strokes displaying the West's natural beauty.
The gallery is available with admission to the museum, $12 for adults, $10 for seniors and active and retired military, $6 for college students, $5 for youth and free for ages 12 and younger or for museum members.
The Sharlot Hall Museum is open from 10 a.m. to 5 p.m. Monday through Saturday and from noon to 4 p.m. Sunday.
For more information, call Leja at 928-722-2015.
SUBMIT FEEDBACK
Click Below to:
More like this story