Prescott Valley residents determined to find a way out when wildfire comes
Wetter than usual weather hasn't tamped down Prescott Valley residents' need to know how to evacuate if a fast-moving wildfire approaches their neighborhoods.
About 80 people showed up at the Open House May 7 at the Prescott Valley Public Library where town, Yavapai County and Central Arizona Fire and Medical Authority (CAFMA) staff provided information, maps and answers to questions.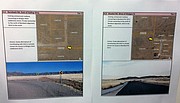 New to Prescott Valley, Charles Pratt lives in Pronghorn Ranch and wondered if his car would make it out on the unused dirt "paths" he located on maps. He left Santa Barbara five months ago and said he was already experienced with fire evacuations. From his home, he determined he could go west through Park View Drive and hook up with Glassford Hill, or he could go north to Antelope Meadows and on to Coyote Springs.
"Someone told us there was a dirt berm, and I'm wondering, will a passenger car be able to get over it?" Pratt asked.
Prescott Valley's Director of Development Services Richard Parker has been working with fire departments and the county's emergency management staff to draw up possible evacuation routes that may take residents across private property in natural disasters such as grassfires. Parker previously identified the Stoneridge development as being at high risk for wildfires.
Julius Koenigsknecht lives in Stoneridge and, having formed the necessary committee, applied for a Firewise Site designation. He received confirmation earlier in the day that the neighborhood has met the requirements to become an official Firewise community.
"Stoneridge has four exits – two at the north end, one at the west and one at the south," Koenigsknecht, the newest county Firewise chairman, said, adding that hearing the development was high risk was "kind of scary." The recent Firewise Day event and barbecue on May 4 attracted 320 residents to hear from three speakers on how to prepare for wildfires.
"Justin Haynes with Prescott National Forest presented a talk on 'Fire has a Role,'" Hoenigsknecht said, something about which he and others didn't know much.
Residents also left written comments with staff that included suggestions such as:
• We could use the construction road connectors in Stoneridge.
• Can we have drills?
• Put up evacuation signage with arrows.
• Create an alarm system for Stoneridge.
• Ensure exit points are accessible for all vehicles, especially a loaded family van.
• Can the fire department regularly inspect exit routes?
• You should be looking at evacuation routes the whole town will use, not just neighborhoods, but highway systems.
CAFMA Fire Marshal Rick Chase, one of the Stoneridge guest speakers, had several handouts available that encourage property owners to create defensible space around structures, prepare a kit and a plan in case of evacuation, and to sign up for emergency notifications.
More like this story
SUBMIT FEEDBACK
Click Below to: