Powers: Pet food ingredients: What it all means
All About Pets

Originally Published: May 13, 2019 10:31 p.m.
The basics for this column were put together by me a few years ago, but the facts still hold true. And the message is loud and clear - The ingredients do make a difference.
Nutrition: 1. The act or process of nourishing or being nourished. 2. The process by which animals and plants take in and utilize food material. (Webster's New Universal Unabridged Dictionary.)
Nutrients are the fuels in foods that provide energy, drive growth and repair damage. Dogs and cats have daily nutrient requirements, (as do we humans) that are necessary for sustaining life. To provide these essential nutrients, appropriate ingredients are selected according to their composition and the availability of the nutrients.
When ingested, ingredients are broken down into simple nutrients that are easily absorbed by the animal. This is the digestion process. Digestibility reflects the amount of nutrients digested and absorbed by the animal to cover their nutritional requirements.
A balanced diet occurs when nutrients provided equal the nutrients required. Just as important as the nutrients themselves is the balance of those nutrients for the age, condition and activity level of the pet.
The six essential basic nutrients that are needed to insure good health are: protein, fat, carbohydrates, vitamins, minerals and water.
Protein is used to heal wounds, provide muscle strength and mass, help maintain normal nerve and muscle function and make cells. Too little protein causes poor growth, weight loss, dull coat, muscular wasting and even death. Poultry, meat, fish and dairy products contain higher quality protein than plant and grain protein because the amino acid balance is better.
Fat is the primary source of energy. It makes the food taste better and promotes healthy skin and coat. Too little fat leads to dry skin and coat and hindered growth. Excess fat not used is stored and leads to obesity, which leads to diabetes, pancreatitis, hip dysplasia and kidney disease.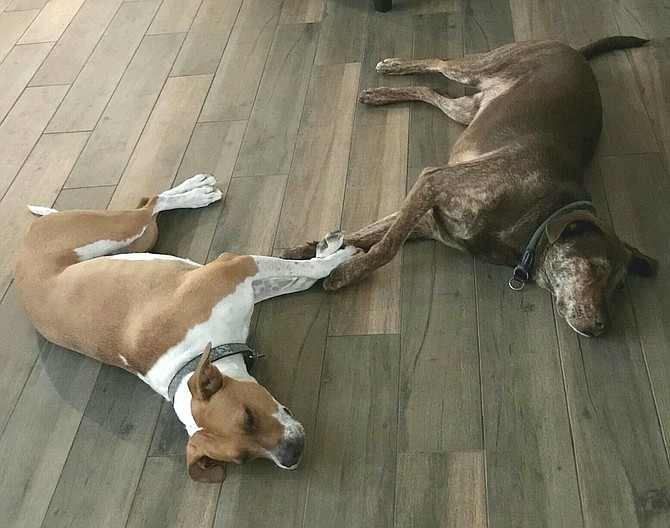 Carbohydrates consist of sugar, starches and dietary fiber, which is found in grains and vegetables. They provide energy and aid in glucose production. These can be stored for later use in exercise and also in extreme cold weather.
Vitamins and minerals contribute in many way including metabolic functions, energy production, electrolyte balance and fluid balance. Insufficient vitamins and minerals can cause impaired organ function, fatigue, muscular weakness, poor growth, dry skin, hair loss, an impaired immune system and poor skeletal formation. However, too many vitamins and minerals can cause skeletal abnormalities, kidney and liver damage, weight loss, anemia and more.
As we all know, water is an essential nutrient and makes up about 60% of an adult dog. It is even higher in puppies. Death can occur more quickly due to insufficient water than with nutritional deficiencies.
It has been proven that you can take four old pair of leather shoes, one gallon of used crankcase oil, one pail of crushed coal and 68 pounds of water and come up with a guaranteed analysis as is listed on many pet food labels. Obviously there is no nutritional value in that mix!
Quality and balance of ingredients, availability of nutrients and proper testing are essential in the production of quality pet foods.
As has been stated numerous times, read the label; you get what you pay for. However, you cannot rely solely on the ingredient panel and guaranteed analysis printed on the label, as they do not guarantee the actual nutritional value of the food.
When choosing a food for your dog or cat, carefully read the label. But also, you must investigate the reputation of the company. There is a website, Dog Food Advisor, help@dogfoodadvisor.com, which maintains updated information and ratings, as well as recalls, of pet foods on the market today.
Sources for this column include Dogs Naturally and Dog Fancy Magazines, Royal Canine and Science Diet Pet food studies, studies from the University of California, Davis and the American College of Veterinary Internal Medicine.
Christy Powers is a freelance writer whose passion is studying and writing about pet health, nutrition and training. She can be reached at cpowerspak@gmail.com.
More like this story
SUBMIT FEEDBACK
Click Below to: