Minimize property destruction caused by wildfires
Create defensible space, be Firewise, Prescott Area Wildland Urban Interface Commission says
Firefighters do their best to protect residential property from wildfires and homeowners can help exponentially by modifying the landscaping around their structures and yards.
They can do this on their own, but they can also join with neighbors or their homeowners association to become a FirewiseUSA site, said Lois Hoskinson, with the Prescott Area Wildland Urban Interface Commission (PAWUIC).
"From an education standpoint alone and becoming aware of the hazards and how to take care of your property, being a Firewise community is valuable," Hoskinson said. "The education part comes first. Second, becoming a part of the whole community, where there's more than one place to go to get help."
PAWUIC receives grant money from several agencies, and Hoskinson said property owners have a better chance at obtaining funds if they become certified as a FirewiseUSA site.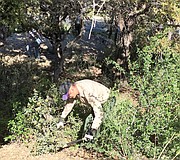 EDUCATION FIRST
To minimize the risk of a wildfire igniting a home, property owners can thin trees and brush around structures and choose fire-resistant plants. Selecting ignition-resistant building materials and positioning structures away from slopes also helps.
The recent April 20 Wildfire Expo in downtown Prescott provided many agencies with an opportunity to pass out information and answer questions, including evacuation tips in case of wildfire, Hoskinson said. "We tell them they each have a stake in safety, not only for their homes, but also for their neighbors and first responders."
WHAT IT TAKES
In 2002, Timber Ridge became the first certified Firewise Community/USA in the state. Today, there are 43 certified communities in Yavapai County.
The first step is for property owners to obtain a written wildfire risk assessment from a fire department or forestry agency. This process determines the vulnerability of homes and property to flying embers and fire. It checks structural characteristics such as roofing, landscape vegetation, housing density, and site boundaries.
Residents must form a committee and develop a multi-year action plan that can include ignition zone projects for homeowners, education outreach, and clean-up events. Non-HOA communities need a minimum of eight single-family dwelling units to participate. Pinion Oaks Folks, for example, consists of a block of neighbors, said Bob Betts, PAWUIC interim chair.
CURRENT EFFORTS
More than 12,000 Prescott properties are certified within Firewise sites. Some insurance companies offer reduced rates for owners in these communities, Hoskinson said.
Estancia de Prescott, located north of the Cliff Rose development, is the newest certified community. Stoneridge in Prescott Valley has recently submitted its application. Town staff recently identified Stoneridge as high risk for wildfires.
Hoskinson said Prescott Valley residents, especially those north of Highway 89A, think they don't need to take mitigation steps because they don't have the trees. "As we know, that doesn't always hold true," she added, referencing last year's Viewpoint Fire.
Manzanita Village, a Firewise Community in Prescott since 2011, participated in Wildfire Preparedness Day May 4 where volunteers put in two hours of arduous work, mostly cutting out vegetation that grows back every year.
The co-housing community has no landscape contractors for its 14 acres — half of which is common area — said Mary Ann Clark, Firewise chair. The day included lunch for the volunteers and guest speaker Ron Sauntman, Yavapai County Emergency Services manager.
"We'll do this again in the summer," Clark said.
BIGGEST ISSUE
Vacant properties with owners who live far away and don't want to pay for mitigation work is the biggest impediment for Firewise sites.
"Your house can be perfectly defensible, but if you have property next to you full of chaparral, an ember could land there and just take off. It's a huge issue people deal with in communities," Hoskinson said.
Sometimes it takes a scare, like the Doce Fire in 2013 that caught the attention of some Williamson Valley property owners, or the Viewpoint Fire in 2018 that caused Prescott Valley residents to take another look at their structures and evacuation plans.
For Hoskinson, it's not just about saving property. "Do it for the safety of the first responders. No one wants anything to happen again."
PAWUIC will help fill out forms and connect people with those offering assessments to become a Firewise site. For more information, call 928-277-8032 or email pawuic1@gmail.com.
Follow Sue Tone on Twitter @ToneNotes. Reach her at stone@prescottaz.com or 928-445-3333, ext. 2043.
More like this story
SUBMIT FEEDBACK
Click Below to: