3 Chino Valley teachers honored at Teacher of the Year banquet, win in categories
Yavapai County Education Foundation awards are countywide
Originally Published: May 13, 2019 4:08 p.m.
Three Chino Valley teachers were recognized this year at the Yavapai County Education Foundation's 25th annual Teacher of the Year banquet Friday, May 3, winning category honors.
"We have some awesome teachers here. It's really neat to see them get outside recognition," said John Scholl, superintendent of the Chino Valley Unified School District. "We try to recognize them as much as we can, but to get a countywide recognition for those teachers is just really neat to see."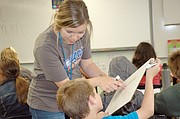 Honored as the Outstanding First-Year Teacher, Del Rio Elementary School third-grade teacher Sara Pareja said it was a total shock to have won in the category. There was a lot of collaboration that led to her growth as a first year teacher, she said.
"Ninety percent of how I've grown as a first year teacher is because I work with Jocelyn Hawkins … and other amazing teachers who have ideas and resources and background experience," she said.
The other 10%, Pareja said, is her style of loving her kids, getting to know them, doing the work with them and growing with them because they're all so unique and different.
While she's taking some time off to have a baby, she said she plans to come back into teaching and is excited to have the honor of Outstanding First-Year Teacher on her resume. It shows that while she doesn't know everything and didn't know anything at the beginning of the year, she's willing to put in all the work it takes to give her students the best.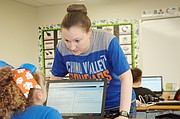 Hawkins, also a third-grade teacher at Del Rio Elementary School, won in the 3rd-5th grade category. Having been a teacher for nine years, Hawkins says she gives it her all 24/7 and it was nice to be recognized because she doesn't seek recognition.
Her teaching style isn't a by-the-book, page-by-page teaching style, she said. She prefers to stray from the routine and do things that engage her students, such as cutting and maneuvering things and manipulating content to learn, Hawkins said.
"In teaching these days, you have to fight for your philosophies and have to push for it. As a nation, we really standardize these kids and made it a testing environment and this is what you teach from and this is how we get results and I don't believe in that," she said. "I think it's respectfully voicing your opinion and fighting for it and showing the results along the way."
Looking forward, Hawkins said she wants to continue to be in the classroom because that's the heart of what keeps her going.
Winning in the high school 9th-12th grade category was Chino Valley High School World History and Honors World History teacher Marc Metz, who said he's been teaching for 21 years.
Recalling his first year in 1998 when was teaching eighth grade at Heritage Middle School, Metz said he had a lot to learn back then. One of the biggest things he's learned over the years is to keep the kids busy.
"I'm constantly looking up different things to improve on my teaching," he said. "I'm always looking for new things to help out and make it a worthwhile experience for the students."
One way he makes it worthwhile for the students is to recap what they've learned in the past to bring it to where they are and see that it's all connected, Metz said.
A teacher for five world history classes, he said he doesn't want to become the teacher where nothing changes from year to year. Winning in the ninth to 12th grade category, Metz said he sees a bit of internal pressure to prove to himself and to others that he was worthy of the award.
"I don't want to get complacent," he said.
Who were the finalists?
Photo Gallery
Yavapai County Teacher Of The Year 2019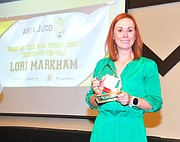 While three Chino Valley teachers were recognized this year, there were many other teachers who were finalists this year, three more of whom also won in their categories with one of them being named overall Teacher of the Year. So who were they?
Teacher of the Year
• Lori Markham – first grade, Abia Judd Elementary School
Outstanding First-Year Teacher
• Sara Pareja – third grade, Del Rio Elementary School (winner)
• Amy Hall, first grade, Acorn Montessori Charter School-West in Prescott Valley (finalist)
• Mandy Atherton, ninth through 12th grade mathematics, Prescott High School (finalist)
K-8th Specialists
• Jessica Kissinger – Sustainability Education, Coyote Springs Elementary School (winner)
• Juana McDonald – sixth through eighth grade English Language Development, Liberty Traditional School (finalist)
• Brandon Uftring – Art, Prescott Mile High Middle School (finalist)
K-2nd grade
• Lori Markham – first grade, Abia Judd Elementary School (winner)
• Sabrina Hubbard – second grade, Territorial Early Childhood Center (finalist)
• Jennifer Shilling – second grade, Clarkdale-Jerome Elementary School (finalist)
3rd-5th Grade
• Jocelyn Hawkins – third grade, Del Rio Elementary School (winner)
• Haylee Kile – third grade, Abia Judd Elementary School (finalist)
• Tabitha King – third grade, Lincoln Elementary School (finalist)
6th-8th Grade
• Katelyn Johnson – Language Arts, Glassford Hill Middle School (winner)
• Alyson Anderson – Science, Prescott Mile High Middle School (finalist)
• Sara Bowers – fifth and sixth grade, Cottonwood/Oak Creek District Dr. Daniel Bright Elementary School (finalist)
High School 9th-12th
• Marc Metz – World History and Honors World History, Chino Valley High School (winner)
• Jennifer Cummings – Math Department Chairman, Prescott High School (finalist)
• Klint McKean – English, Mingus High School (finalist)
More like this story
SUBMIT FEEDBACK
Click Below to: