2 Humboldt district teachers earn countywide Teacher of the Year awards
Pre-med to teacher, math to English
Every year, Yavapai County teachers in six categories are honored for their expertise, abilities and passion. This year, the Yavapai County Education Foundation judged 70 nominees, which were honored at the 25th annual Teacher of the Year awards and ceremony May 3 at the Prescott Resort.
Among the nominees, 20 work in the Humboldt Unified School District. From those, two teachers stood out and earned the top teacher honors in their categories: Katelyn Johnson, 6th-8th grade, and Jessica Kissinger, K-8th grade specialist.
The overall Teacher of the Year winner was Lori Markham, who teaches at Abia Judd Elementary School in the Prescott Unified School District.
JESSICA KISSINGER
Kissinger is the Sustainability Education teacher working with the Schoolyard Habitat program at Coyote Springs Elementary School. She works with students at all grade levels, kindergarten through sixth grade. She also has revamped the school's gifted program.
"There is no reason why we can't do gifted education for all students. All of them should be given that opportunity," Kissinger said.
So this year, she opened the Wright Flight program to all fifth-graders, not just the excelling students. The impact on students when told they, too, were in enrichment classes, was amazing. She said their confidence level shot up.
Next year, she will expand her curriculum to provide more enrichment opportunities across all grade levels. Bear in mind, she teaches classes to all 641 students each week.
"There's a lot going on at any given time," she said with a laugh.
Kissinger began her career as an aide at Humboldt Elementary School, which also is where she met her husband. She started college as a math major, and found herself accidentally in a math class for elementary teachers, thinking she was in pre-calculus. She fell in love with the class and switched majors.
"I love that I can pull everything in — science and math — with real world learning," she said.
This is her sixth year of teaching, one-and-a-half with the Humboldt district. She has written numerous grants, one that provided 40 fruit trees for the campus. Her sixth-grade students are researching and designing an underground drip system, including a cost analysis of materials. The most recent outdoor project involved planting seedlings in 13 garden beds and constructing rabbit fences around each bed.
"This is my absolute dream to do what I'm doing now," Kissinger said. "I'm honored to do this and honored to give students the chance and opportunity to succeed."
Finalists in this category included Juana McDonald, Liberty Traditional School (HUSD), and Brandon Uftring, Prescott Mile High Middle School. Four other HUSD teachers were nominated: Lewis Hollander, Courtney Krismer, Paula Moreno and Jose Rosario.
KATELYN JOHNSON
Johnson teaches regular and honors classes in Language Arts at Glassford Hill Middle School; she won in the 6th-8th grade category. She also teaches creative writing, and sees 130 students each day.
This is her second year at the school and with the district. Two years ago, she graduated from Augustana University in Sioux Falls, South Dakota, and was recruited to begin her career in the Quad Cities. Two college friends preceded her by a year, and are teachers in Chino Valley and in Mayer.
"I thought I would check it out," she said. From several offers, she picked middle school as the best fit.
She attended Augustana University on a science scholarship thinking she would go into pre-med studies. In her freshman year, she found she looked forward to doing her English homework, and not so much the science homework. She switched her major to education.
"I love reading, and teachers have been my role models," she said. "It should have been obvious. I babysat, tutored, and was a Sunday school teacher. I want to keep my passion with literature."
Johnson's Augustana basketball jersey hangs in the corner behind her desk. It's no surprise she coached the girls basketball team, which won the quad-city area tournament, even with many girls on the team who had never played the game.
"It was one of the highlights of my year to see them outside the academic setting," she said, adding that some days her work as teacher feels more like being a counselor. "This has been a rewarding job for sure."
Johnson uses the past tense because, unfortunately for the students, the school and the district, she is moving back to South Dakota this summer. Her boyfriend, whom she met in Prescott Valley, works in technology and found work in Iowa, although he would much rather be in PV, she said.
"I'll tell the kids next week," she said last week. "I love the place here, so you never know."
She has accepted a job at the high school level for next year — at the same school she once attended.
"I've been involved in different aspects of the community here. I'm thankful for all the parental support. I'll miss the kiddos most, though. I'll stay in touch somehow. I'll make it happen."
Johnson was one of three finalists in this category, the other two being Alyson Anderson at Prescott Mile High Middle School, and Sara Bowers at Dr. Daniel Bright Elementary School in Cottonwood-Oak Creek District. Other HUSD nominees in the category included Tammy Hewston, Amy Kidd and Julie Renfroe.
Follow Sue Tone on Twitter @ToneNotes. Reach her at stone@prescottaz.com or 928-445-3333, ext. 2043.
Who were the finalists?
Photo Gallery
Yavapai County Teacher Of The Year 2019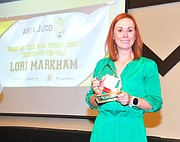 While three Chino Valley teachers were recognized this year, there were many other teachers who were finalists this year, three more of whom also won in their categories with one of them being named overall Teacher of the Year. So who were they?
Teacher of the Year
• Lori Markham – first grade, Abia Judd Elementary School
Outstanding First-Year Teacher
• Sara Pareja – third grade, Del Rio Elementary School (winner)
• Amy Hall, first grade, Acorn Montessori Charter School-West in Prescott Valley (finalist)
• Mandy Atherton, ninth through 12th grade mathematics, Prescott High School (finalist)
K-8th Specialists
• Jessica Kissinger – Sustainability Education, Coyote Springs Elementary School (winner)
• Juana McDonald – sixth through eighth grade English Language Development, Liberty Traditional School (finalist)
• Brandon Uftring – Art, Prescott Mile High Middle School (finalist)
K-2nd grade
• Lori Markham – first grade, Abia Judd Elementary School (winner)
• Sabrina Hubbard – second grade, Territorial Early Childhood Center (finalist)
• Jennifer Shilling – second grade, Clarkdale-Jerome Elementary School (finalist)
3rd-5th Grade
• Jocelyn Hawkins – third grade, Del Rio Elementary School (winner)
• Haylee Kile – third grade, Abia Judd Elementary School (finalist)
• Tabitha King – third grade, Lincoln Elementary School (finalist)
6th-8th Grade
• Katelyn Johnson – Language Arts, Glassford Hill Middle School (winner)
• Alyson Anderson – Science, Prescott Mile High Middle School (finalist)
• Sara Bowers – fifth and sixth grade, Cottonwood/Oak Creek District Dr. Daniel Bright Elementary School (finalist)
High School 9th-12th
• Marc Metz – World History and Honors World History, Chino Valley High School (winner)
• Jennifer Cummings – Math Department Chairman, Prescott High School (finalist)
• Klint McKean – English, Mingus High School (finalist)
More like this story
SUBMIT FEEDBACK
Click Below to: