Prescott Valley Days - a 4-day family event - starts, ends with good food, fun
Parade, carnival, 5K run, music fill out event
Prescott Valley's population may have reached or surpassed that of Prescott, but a man with a baby on his lap driving a tractor still calls out by name and waves to friends lining the parade route Saturday, May 10, during the four-day Prescott Valley Days event.
Photo Gallery
Prescott Valley Days Parade 2019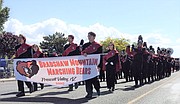 Prescott Valley Days included the annual parade Saturday, May 11, 2019. The Prescott Valley Days celebration continues Sunday, May 12, with a farmers market and the carnival.
Kids danced to "Louie, Louie" played by one of the marching bands, and raced to collect candy thrown by those driving by in floats or cars. Quite obviously, residents are proud of their community. As the Patriot Disposal truck wafted by, someone called out, "Hey, that's my garbage people!"
This year's Prescott Valley Days began with the Ranch to Table event Thursday, May 9, and ended with Sunday's Farmers Market and a final day of the carnival. Throughout, it provided many venues for family entertainment.
The Ranch to Table dinner, with its beef provided for by the Fain Land and Cattle Company, was sponsored by the Prescott Valley Chamber of Commerce in celebration of its 45 years of community contributions. (See page 3 of today's Tribune.)
This year's PV Days theme, "Building Our Future," incorporates the community's efforts to support its youth. Friday's activities included the third annual Fiesta Del APueblo with music, dancers, street tacos, and a beer and beverage garden, sponsored by Azteca Market.
On Saturday, the weather held up for the annual parade, which lasted an hour with marching bands, floats, school children and horses making their way down Florentine Road. Those sitting in the sunshine shed coats and sweaters; those in the shade stayed wrapped up. Many brought their breakfasts with them. Several pickup trucks backed up on empty lots close to the sidewalk and families arranged themselves on tailgates.
Heather Markley cuddled up with her small dog, Leroy, and a large coffee. With her was Louie Poslof with his dog, Face, Tina and Allen Jordan, and Loreta Markley, all Prescott Valley residents.
"Oh, look. They have a barn dance Friday nights," Tina pointed out as the Mortimer Farms float passed by.
After the parade, at least 40 runners gathered in front of the Findlay Toyota Event Center for the Bear Dash 5K Run/Walk organized by the Humboldt Unified School District.
The Bradshaw Mountain High School marching band ignited the runners' enthusiasm with its fight song as the air horn sent them on their way.
The district schools' track teams and family members ran for free in this fundraising event.
Saturday also offered a dunk tank, karaoke, dancing, and a wing-eating contest. The Eagles cover band, South of Winslow, played into the evening closing out a long day of activities.
Concluding the event on Sunday was the Prescott Valley Farmers Market and the carnival.
Follow Sue Tone on Twitter @ToneNotes. Reach her at stone@prescottaz.com or 928-445-3333, ext. 2043.
More like this story
SUBMIT FEEDBACK
Click Below to: