Chino Valley's Lauren Foster up for Scholar Athlete of the Year honor
Prep Sports
By
Doug Cook
|
dougout_dc
Originally Published: May 12, 2019 12:06 a.m.
CHINO VALLEY — Over the past four years, Chino Valley senior Lauren Foster has been as driven in the classroom as she has on any soccer field or track surface.
Foster, a multi-sport athlete who will finish her high school career with a cumulative 4.0 GPA this month, was notified recently that she is among the finalists for the Arizona Interscholastic Association's (AIA) Scholar Athlete of the Year for the state's smaller-enrollment schools.
On Friday, May 17, Lauren will join her father, Cougars girls soccer coach Allen Foster, and her mother, Velmarie, at the AIA awards luncheon at State Farm Stadium in Glendale, where she and the other finalists will learn who wins the scholar athlete award and a $5,000 college scholarship.
In conjunction with the high school, Chino Valley P.E. teacher Jenda Ballard and Allen Foster nominated Lauren for the award. Lauren completed an application, along with an essay on sportsmanship. She also participated in a taped interview with the AIA, portions of which will be shown, along with the other finalists' footage, at the ceremony.
The video is also supposed to incorporate photos of Lauren playing soccer as a midfielder for the Cougars. During her four years on the team, Chino Valley was a 2A state semifinalist in 2015, won a 2A state championship in 2016 and captured consecutive 2A state runner-up trophies in 2017 and 2018 under coach Foster.
"I'm beyond grateful for my dad coaching me," Lauren said from the Chino Valley campus on May 8. "He's always been a really dedicated guy – building a program with good athletes – and his hard work has paid off. I probably wouldn't be where I am today without him. He knows how to push his athletes to be their best."
SELECT COMPANY
Allen said Matt ten Berge in 1992 and Allen Short in 2000 are the only other AIA scholar-athlete award finalists in Chino Valley High's history, which dates to 1989. Lauren's selection as a finalist was based on her academic achievements and athletic accomplishments in varsity soccer and track.
In the classroom, Lauren has taken solely honors classes or dual-enrollment courses through Chino Valley High and Yavapai College. Getting straight A's helped her earn a scholarship to Embry-Riddle Aeronautical University in Prescott this fall.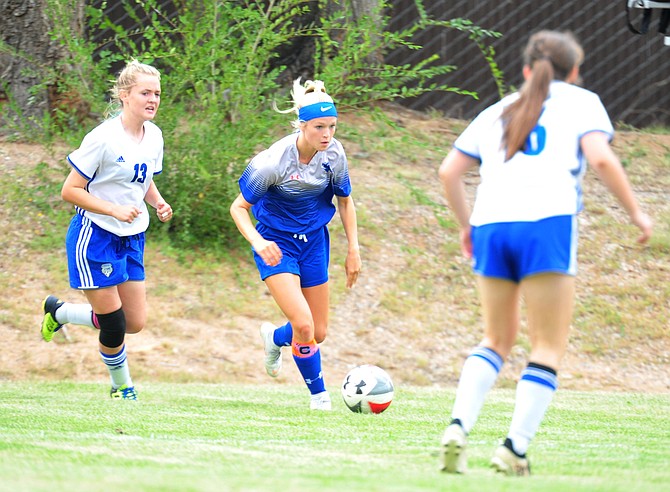 Ivette D'Angelo, Lauren's high school counselor, said Lauren's scholarship should cover her tuition for all four years. Lauren will finish her high school career on the Superintendent's List, in the Top 10 percent of her class, as the student council member of the year, and as the Cougarette (quality person who represents all that Chino Valley High stands for, including school spirit, high academic achievement and participation in clubs and athletics).
"She's just great – the kind of person everybody looks up to," D'Angelo said. "She leads by example."
In athletics, Lauren was chosen as the 2A conference's girls soccer player of the year for 2018, and she ran in relays at this spring's Division III state track and field meet May 3 and 4 at Mesa Community College. For the fourth consecutive season, Lauren also worked as the varsity wrestling team's manager.
Allen, currently an assistant coach for the Cougars wrestling team, said Lauren ran track so she could be a faster soccer player. She was a four-time first team all-state selection in soccer and holds the Cougars program's career records for goals scored and assists, as well as its single-season assists record.
"She's a goal-setter, and she achieved those goals unselfishly," Allen added. "She's an ideal player for a coach."
ON TO ERAU
This fall, Lauren will play women's soccer for Embry-Riddle Aeronautical University (ERAU) in Prescott under longtime coach Todd Poitras while pursuing a degree in business administration.
Lauren is one of 11 players in Poitras' 2019 recruiting class, which he announced in February. The coach said his program's "so blessed" to have her in the fold.
"She is technically solid, and extremely crafty on the ball," Poitras said. "Her pure athleticism allows her to just go and go at a high tempo for long periods of time. Lauren is also a precision passer of the ball, with excellent field vision. She can create all kinds of havoc for the opposing team's midfield and backline. Given time we expect she is going to show she's an elite player."

She will join the team in August for preseason practices in Prescott.
"I want to be able to compete and offer something to the team," Lauren said.
Lauren added that she had always been involved in Poitras' Embry-Riddle youth soccer camps. The Eagles soon became her favorite team. Poitras was Lauren's youth club soccer coach for a short while, too.
"I've had the pleasure of being able to watch Lauren develop as a player for about seven years now," Poitras said. "Throughout that time, she has improved at a truly rapid pace, and become a very special player. As a program we naturally hope to attract a talented local athlete, but having a player like Lauren join us is more about getting one of the top student-athletes in the state. It just happens to be an added bonus for us both that she's from our own backyard."
Lauren, who has shown an interest in becoming a dental hygienist, said she chose business as a major at ERAU because it should afford her flexibility and opportunities in the job market.
Her self-discipline, high-energy personality and penchant for working hard in school, clubs and sports have propelled Lauren to this point. She's also a member of the National Honor Society and she plays an active role in the high school's Honors Academy, on top of serving as student class president. Outside of school, Lauren's involved in the youth group at her church.
"She's a phenomenal leader, and she takes charge," D'Angelo said. "You can give her a task and not worry about whether it will be done correctly. She's organized, independent, respected and well-liked by her peers. She's kind and sweet, and she will help anybody."
Chino Valley Athletic Director Marty Campitelli said he admires Lauren so much that he hopes his 6-year-old daughter, Harper, emulates her. Campitelli credits Allen and Velmarie for raising Lauren so well.
"With Lauren, it's not just academics and athletics," Campitelli added. "She's one of the more visible kids on this campus. She's the face of her class, and in a good, positive way. She's always driven to succeed. Whatever she does, she'll be successful. I'm super proud of her."
Doug Cook is a sports reporter for The Daily Courier. Follow him on Twitter at @dougout_dc. Email him at dcook@prescottaz.com or call 928-445-3333, ext. 2039.
SUBMIT FEEDBACK
Click Below to:
More like this story