"Never Sit If You Can Dance" a touching Mother's Day tome

By
Nanci Hutson
|
HutsonNanci
Originally Published: May 11, 2019 8:40 p.m.
Jo Giese is a radio and TV journalist/author who just finished a little book perfect for Mother's Day.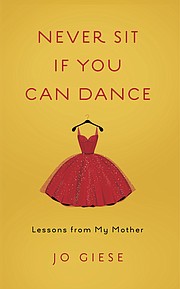 The southern California/Bozeman, Montana, writer selected the title, "Never Sit If You Can Dance" from slices of wisdom imparted by mother, Babe, a woman she admits she adored yet didn't always admire.
Until she passed at 97 years, 8 months and 25 days, Gladys "Babe" Sylvia Kenney Giese was a lady known for her colorful fashion presence, a taste for scotch and soda, arm-wrestling prowess and all-night parties. Or so her daughter penned in a 129-page book published by She Writes Press.
For the bulk of her life, Giese wrote, Babe moved with a grace best showed off on the ballroom, or basement, dance floor, one shared with a beloved, corsage-delivering beau, James, her life partner for 54 years.
To learn more about Jo Giese, visit her on Facebook.com/authorjogiese. To purchase for $13.46, visit www.amazon.com
On the last page of Giese' story — a chronicle of Babe's life lessons — the once rebel daughter, Babe's middle child, shares a poignant reality.
"She missed her Mother's Day party by three days," Giese said of Babe who died at a Houston senior facility on May 9, 2014. "It was going to be so much fun. She would have liked it so much."
Her mother didn't get to see the manuscript for the She Writes Press publication released on April 23. But Giese has high hopes her mother's spirit peeks through her words so as to enrich other mother/daughter relationships.
The book is divided into 14 chapters: 13 of them are translated Babeisms: "Never Sit If You Can Dance," "Maybe We All Need Someone Waiting For Us in the parking lot; "Never Show Up Empty-Handed; "Thank-You Notes are Never Too Plentiful," "Make the Best of It," "Sharing Fun is the Whole Thing," The Happiness of Giving and Receiving Flowers," "The Good Goodbye," "People Don't Like to be Around Depressed People;" "Don't Be Drab," "Never Leave a Compliment Unsaid," "Go! While You Can," "Sometimes Life Begins Again at Ninety-Five."
The final chapter Giese titled "The Last Lesson." This one focuses on how her mother opted to live rather than prepare to die even when confronted with declining health and hospice care.
In the chapter, Giese recalls offering what she thought might be a last "I love you" to the bewitching woman who made people delight in her presence. Giese said she let her mother know she did not need to stay in this world for the benefit of her remaining family.
"She looked at me, puzzled, almost hurt," Giese wrote of her mother who was then approaching 97. "'But I'm still curious.' "Babe was not ready to go anywhere."
The one-time Ms. Magazine writer and world traveler who has written three other books said she so appreciates how her book is resonating with readers who share with her their mother stories.
Giese has no children of her own, but inherited six grandchildren born to the two sons of her husband, Ed Warren. At Giese's wedding in Malibu, California, a decade ago, Babe accompanied her down the aisle in her walker — she was wearing a bright pink print top with a floral lei around her neck.
In a telephone interview, Giese said some of the stories she has heard from other women echo times she wrinkled her nose at Babe's stay-at-home lifestyle. Come to find out later that she underestimated her mother's worth, Giese admits.
As Giese matured, she said, she realized her mother's strong sense of self that enabled her to cope with the deaths of close relatives, including Giese's father, a businessman for whom she willingly "waited in the parking lot."
Prior to penning this book, Giese published shorter essays about her mother for a Houston magazine. Giese found, though, she had a lot more to say, actually, her mother did. By retelling them after her death, Giese said she was able to reconnect in a way that inspired joy rather than despair.
One such reflection revolves around a hurricane in Houston when Giese was 12 years old. There were calls to evacuate, but her mother wasn't quite sure how to make that happen. So instead she invited the neighbors over to wait out the storm together.
"We had a helluva good time. Mother really made the best of it. That's a real gift," Giese remembered.
In her search for the right title for a book she never imagined she would write, Giese said she landed on what she now thinks are words that so clearly sum up how her mother believed life should be lived.
Dance was Babe's metaphor for "just get up off your tush and move," Giese said.
"Make a life."
One book reviewer, fellow author Nancy Spiller, declared that everyone needs a Babe in their life.
"Lucky for Jo Giese having hers, and lucky for us that she's sharing her with us in this uplifting romp through one woman's well-lived life," Spiller said. "You'll laugh, you'll cry and then you'll want to read it all over again just to get a little more Babe."
More like this story
SUBMIT FEEDBACK
Click Below to: