Bank robbery investigations ongoing; police use support from banks, FBI

By
Max Efrein
|
mefrein
Originally Published: May 11, 2019 10:48 p.m.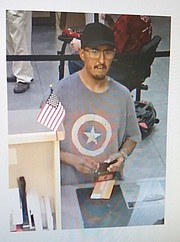 A man wearing a brown fedora and sunglasses strolled into the Credit Union West in Prescott Valley at midday Friday, May 3, and demanded the teller to hand over cash.
No weapon was used, only a threatening note and a small bag. The unidentified man made off with $1,545 from the single teller and has yet to be apprehended.
A similar crime occurred 10 months earlier at the OneAZ Credit Union on Pav Way in Prescott Valley. A suspect came into the credit union, told a teller to give him cash or else he would use force, and escaped with just over $2,000. He has yet to be found or even identified.
How police handle such investigations is similar to any other crime. The only difference is they are required to inform the FBI of what occurred, said Sgt. Tom Grant, who heads up criminal investigations at the Prescott Valley Police Department (PVPD).
"We notify them, and if they're able to assist in any way, they do," Grant said.
Reason being, banks and credit unions are federally insured, so the money stolen essentially belongs to the federal government.
However, the FBI often will defer the case to the local authorities, said Lt. Corey Kasun with the Prescott Valley Police Department.
"They only really get involved if they recognize the MO (method of operation) or believe it's linked to other bank robberies they're working," Kasun said.
One such instance locally was in 2010, when a serial bank robber hit the Wells Fargo in Prescott for about $2,500.
The man, Russell Dean, had robbed six banks in Flagstaff, Phoenix, Prescott and Surprise between Oct. 22 and Dec. 11, 2010, before getting arrested in Phoenix on Dec. 22. He was nicknamed the "Skeletor Bandit" because, in the first four robberies, he wore a Halloween-style rubber mask that resembled the 1980s "He-Man" cartoon character Skeletor, along with a black hooded sweatshirt.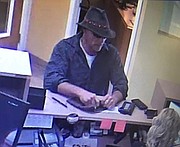 "They use different disguises all the time," Grant said.
Since it was multi-jurisdictional, the FBI handled the bulk of the investigation and Dean was federally prosecuted.
GIVE THEM THE MONEY
Money is not worth your life.
That is what banks and credit unions tell their employees when it comes to robberies.
"Bottom line, they have to be safe first," Grant said.
Criminals know this, so all they need to do is demand that tellers give them money under threat of violence and the tellers usually comply.
There are, however, security measures often used by banks and credit unions that assist police in catching bank robbers.
Some of those include silent alarms, bait bills and dye packs.
With bait bills, the bank records the serial numbers of bills. Then, if there is a holdup, it tries to give them to robbers so that if someone is caught with that money, they can be confirmed as either having stolen it or possibly interacted with whoever did.
Steve Hooper, a professor with Embry-Riddle Aeronautical University and a former FBI agent who handled many bank robbery investigations, recalls catching a bank robber years ago with the help of bait bills.
"I stopped a guy on the street and asked him if he had robbed a bank," Hooper said. "I knew he did, so when I took the money out of his pocket, I was able to match the serial numbers to the numbers recorded by the bank."
Dye packs are radio-controlled incendiary devices sometimes hidden in stacks of bills. When detonated, they release a dye laced with an uncommon chemical that permanently marks the bills.
While investigating another robbery, Hooper once found that uncommon chemical on a suspect's shoes.
"He had cleaned all his clothes, but we had found the [chemical] in the eyelets of his sneakers," he said. "If you have that [chemical] on you, there's only one way to get it and that's by being around a dye pack when it goes off."
PUBLIC IS INTEGRAL TO INVESTIGATIONS
As investigations into unsolved bank robberies continue – such as the two in Prescott Valley – police ask that the public be vigilante and report anything that may assist in identifying and finding the suspects.
"We can't solve anything without the community," Grant said. "The community knows the people. There's somebody out there who knows who those people are."
For anyone who wishes to provide a tip about a crime, but not be identified, he or she may call Yavapai Silent Witness at 1-800-932-3232.
More like this story
SUBMIT FEEDBACK
Click Below to: