'Smelly lady' part of new wave of alternative therapies at VA
Agency sees benefits of aromatherapy, other treatments

By
Nanci Hutson
|
HutsonNanci
Originally Published: May 10, 2019 9:02 p.m.
Sue Jordan, a Prescott VA registered nurse, is known fondly by some veteran patients as the "smelly lady."
Jordan keeps a steady supply of cotton balls for patients at the VA's Domiciliary who want to try aromatherapy as a non-medical treatment for such ailments as anxiety, sleep deprivation, anger management, or even to help those seeking to kick a pack-a-day cigarette habit or give up a carbohydrate addiction. She infuses the cotton balls with scents from her VA-approved supply of essential oils: bergamot, black pepper, eucalyptus, frankincense, lavender, peppermint and tea tree.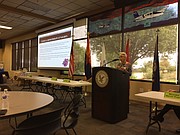 Not unlike how she might monitor a patient's traditional medications, Jordan selects an oil, or a combination, best suited to the treatment of the veteran patient's pressing health need.
The Northern Arizona Veteran Affairs Health Care System Domiciliary offers short-term, in-patient rehabilitation stays for veterans struggling with substance abuse addictions, homelessness and mental health-related issues.
At the Prescott VA's seventh annual mental health summit on Thursday at Embry-Riddle Aeronautical University, Jordan shared about the growing popularity of aromatherapy as an alternative wellness program, one primarily financed through the VA's Volunteer Services Department.
The all-day summit offered speakers, panel debate and networking on mental health and other issues that included how to determine VA care eligibility; the new Mission Act that become effective next month to enhance care options for veterans, suicide prevention efforts and community-oriented service and recovery-focused programs.
When Jordan started offering the therapy three years ago, the 48-year career professional who in 2014 earned her certification as a clinical aromatherapy practitioner admits there was a fair amount of skepticism. Nowadays, she said, a majority of the Domiciliary patients opt to at least give it a try.
Jordan said the staff have documented 76 patients who identified positive effects from their use of essential oils, Jordan said. The intention is to expand use of the therapy to all of the other VA in-patient and out-patient services, be it the intensive outpatient mental health program or to those seeking primary health care, she said.
One of her male veteran patients sniffed black pepper and peppermint as a means to repel him from cigarettes, Jordan said. And it worked, she said.
Another vet, a woman, slipped a bag of cotton balls containing a mix of bergamot, frankincense and lavender under her pillow, Jordan said. The unconventional elixir proved just what she needed to find a "sanctuary space" that then enabled her to enjoy a restful sleep, she said.
"This is such an empowering therapy," Jordan declared.
Yet it is not the sole alternative wellness tool the VA offers to its patients.
VA staff are regularly offering acupuncture, chiropractic care, yoga and Tai Chi classes, visual and performing art events, even gardening and outdoor recreational competitions, as complementary approaches to traditional medicine, officials said.
Part of the VA's mission these days is oriented around a "whole health" approach to veteran care, declared Ali Cassidy, the VA's program manager for the Psychosocial Rehabilitation and Recovery Program. Cassidy, a clinical social worker, served as one of the key summit facilitators.
"There has been a cultural shift in the (federal) VA, one that is more holistic, more veteran-centric and more driven by the vets' needs," Cassidy said.
She explained the shift as one that moves from asking a veteran patient, "What is the matter with you?" to "What matters to you?"
And she knows it works — she sees patients who have become exercise devotees after experiencing significant weight loss prompted by walking a few minutes a day, a few times a week.
When veterans set their own goals — exercise so they can dance at their son's wedding or cavort with grandchildren without a walker – Cassidy said they embrace it far more than when a doctor dictates a diet or orders a medication without the patient understanding the need for it.
Craig Mickelson, a peer facilitator and program support assistant in the mental health outpatient program, endorses this approach because it gives veterans "the power to live life to the fullest."
"We're our best doctors if we listen to our bodies," Mickelson said.
Jordan says the ability to offer veterans' options beyond traditional medicine brings her great joy.
She then showed off a sign she hangs in her office:
"Keep Calm and Inhale Frankincense."
More like this story
SUBMIT FEEDBACK
Click Below to: