Prescott Valley Days engages youth, adults

Originally Published: May 9, 2019 10:08 p.m.
With a theme of "Building Our Future," the 41st annual Prescott Valley Days has incorporated activities that engage the youth as well as adults.
"When we look at Prescott Valley, we're growing," said Prescott Valley Chamber of Commerce CEO Marnie Uhl. "We're building our future not only in a communitywide sense, but let's build our future with our young people and empower them and bring them as part of the community."
It all takes place in the Prescott Valley Entertainment District, 3001 Main St.
Friday, May 10 is the third annual Fiesta Del Pueblo sponsored by the Azteca Market, featuring entertainment, dancers, street tacos and a beer and beverage garden. The carnival opens at 5 p.m.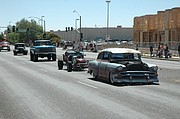 On Saturday, May 11, the Prescott Valley Days parade starts at 9 a.m. followed by the Bear Dash 5K Run/Walk at the Findlay Toyota Center, 3201 N. Main St. at 10:30 a.m. and the carnival opening at 11 a.m. In keeping with the theme of bringing the young people together as part of the community, there will be things for them throughout Saturday, such as a dunk tank run by the Bradshaw Mountain High School Student Council from 1 to 3 p.m., a DJ playing more contemporary music with karaoke and dancing from 4 to 7 p.m. and two heats in the wing-eating contest for the younger crowd, Uhl said. The contest begins at 3 p.m. and the three heats are ages 8 to 13, 13 to 21, and 21 and older.
The celebration Saturday continues until the Eagles cover band, South of Winslow, finishes at 11 p.m.
Sunday, May 12 sees a partnership with the Prescott Valley Farmers Market to add something more to the day other than just the carnival, which opens at noon, Uhl said.
"We tend to find Sunday is family day; people will come to the carnival after church or after breakfast," she said. "We said 'OK, well here's an additional thing to do and we added them and included them in all our marketing and advertising.'"
The Prescott Valley Farmers Market begins at 11 a.m. Sunday.
Other than the carnival, the weekend's activities are free, Uhl said. There'll also be food trucks and vendors there, she said.
"It's going to be a perfect, fabulous weekend with something for everyone," Uhl said. "It's a beautiful way to celebrate Prescott Valley."
For more information about Prescott Valley Days, call the Prescott Valley Chamber of Commerce at 928-772-8857.
More like this story
SUBMIT FEEDBACK
Click Below to: