Mountain Artists Guild puts on 33rd annual: Prescott Fine Art & Wine Festival

Originally Published: May 9, 2019 10:46 p.m.
Updated as of Saturday, May 11, 2019 10:16 PM
Surprise mom with a Mother's Day gift this weekend by taking her downtown for Mountain Artists Guild's 33rd annual Prescott Fine Arts & Wine Festival
Held Saturday and Sunday, May 11-12, the wine portion of the festival has shifted back to Cortez Street and will have a couple of food trucks this year, said Mountain Artists Guild Executive Director Pauline Gravier. They are Cousins Maine Lobster and Grillin 'n' Chillin' and there will also be food by Shrimp Viche Man.
The organization is also doing something this year called "Chairish the Arts," Gravier said. There will be drawings for special chairs at 3 p.m. Saturday and Sunday.
"They are chairs decorated and embellished by local artists, she said. "We will have several onsite."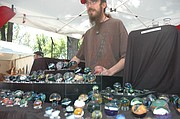 From 9 a.m. to 5 p.m. the courthouse plaza will be filled with art of different mediums and several new artists alongside the old artists. New vendors this year include Art on Mable, Canoa Naturals, Kimbajul Handcrafted Jewelry, Prescott Wood Carvers, Abstract Annessa, Splendid Nature and Srishti Art.
It's always enjoyable to see the returning vendors as they're mixed in with the new artists, said Mountain Artists Guild President Cathleen Rainey.
"So as you're wandering around you go 'ooh, there's something new,'" Rainey said, adding that it "just makes it that much more exciting."
As a nonprofit, the festivals are what keeps Mountain Artists Guild's gallery and outreach programs going with all of the profits supporting the organization and its community outreach, she said.
Additionally, Mountain Artists Guild has a longstanding relationship with the Arizona Rangers, Gravier said. They're interested in the organization's veterans program, and at 3 p.m. Saturday, they will be presenting a check at the bandstand for the program, she said.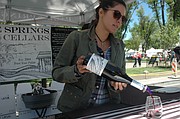 "They came and observed the program and were just very impressed with the camaraderie and creativity and compassion displayed by the two men who run the program, Craig Stilwell and Paul Monska, and how involved Mountain Artists Guild is involved with the veterans community here," Gravier said.
For more information about the 33rd annual Prescott Fine Arts & Wine Festival, visit www.mountainartistsguild.org.
More like this story
SUBMIT FEEDBACK
Click Below to: