Prescott blanketed in hail; more storms to come

Originally Published: May 8, 2019 5:30 p.m.
The Prescott area – and much of Northern Arizona – received a blanketing of hail Wednesday, May 8, as a result of the day's storms rumbling through the area, according to the National Weather Service.
"There was certainly a lot of hail out there, and it was not confined to Prescott," said Ken Daniel, meteorologist with the Weather Service's office near Flagstaff. "These cooler surface temperatures produced a lot of small hail across Northern Arizona."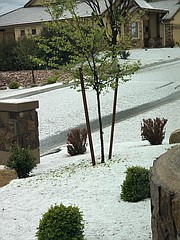 The Weather Service received reports of hail up to the size of a dime in the Prescott area, including one report of nickel-sized hail one mile east of the Yavapai County Courthouse. Daniel added that hail also accumulated on roads in portions of Prescott and in Williamson Valley, northwest of the city.
Other reports included nickel-sized hail in the Strawberry and Pine area, and three-quarter inch hail near Camp Verde and Interstate 17.
"We also heard there was a lot of rain," he said, referring to Prescott and Williamson Valley, which caused the Weather Service to issue a flash flood warning; however, as of 5 p.m. no reports of flooding or damage were received.
Over the next several days residents of the Greater Prescott area can expect more of the same, Daniel said, adding that the storms hopefully do not include hail.
Rain and thunder storms are expected Thursday (40%), Friday (20%), and increasing to 60 and 70% over weekend, according to the National Weather Service website, NOAA.gov.
Daniel said these weather patterns are a bit abnormal for this time of year. "To have this lengthy period of unsettled weather in May is unusual."
He said the silver lining is it delays the fire season.
Yet, "the last few Mays have also seen some storms that produced some snow flurries – it is a mixed bag around here," he said.
Tim Wiederaenders is the senior news editor for Prescott News Network. Follow him on Twitter @TWieds_editor. Reach him at 928-445-3333, ext. 2032, or twieds@prescottaz.com.
---
Sign up for our e-News Alerts
SUBMIT FEEDBACK
Click Below to: