'Remarkable recovery' leads to special walk for teen
Year after boy struck by vehicle, 'Nathan's Ninjas' cross crosswalk

By
Max Efrein
|
mefrein
Originally Published: May 7, 2019 9:49 p.m.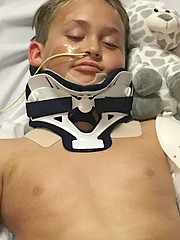 Surrounded by friends and family wearing bright pink T-shirts that say "Nathan's Ninjas" on the front, Nathan Rendl, 13, confidently strode across the crosswalk at Lakeshore Drive and Lake Valley Road on Tuesday, May 7, and released balloons into the sky.
Exactly a year earlier, he nearly died in that same crosswalk after a vehicle driven by a 16-year-old girl hit him while going about 30 mph.
"I thought we might lose him," said Bob Rendl, Nathan's father and a fire captain with the Central Arizona Fire and Medical Authority (CAFMA). "Seeing him after he was hit, I definitely had a grim outlook."
WHAT HAPPENED
Nathan doesn't really remember what happened, but several of his friends do.
They had gotten out of class at Liberty Traditional School down the road and were heading to the Prescott Valley Library — where they would go almost every day after school to hang out until their parents picked them up.
"We were running across and Nathan was in front," said Garrett Busch, Nathan's best friend.
One car had stopped in the four-lane road and was waiting for the kids to cross, but the 16-year-old girl continued to drive through.
"I heard [Garrett] scream 'Nathan,'" said Emma Bergamini, who was nearby.

As soon as Nathan was struck, Garrett called 911.
Several of the other kids ran up to Nathan to check on him.
"My first reaction was to drop everything and just run to him," said Luis Deanda. "I softly touched his head and it was dented right at the top."
The 16-year-old driver stopped briefly after hitting Nathan with her car, but then drove away.
"She was panicking," Deanda said.
"I don't know what I would have done if I was in her position," Bergamini said. "I feel so bad for her. I can't imagine being in Nathan's position and his family's position, but it's got to be hard for her too."
THE RESPONSE
Emergency personnel responded to the scene within just a couple minutes of receiving the report.
"It was kind of all hands on deck," said Jake Lichlyter, the traffic officer in charge of the investigation.
First on scene were firefighters and paramedics with Central Arizona Fire and Medical Authority (CAFMA).
"Anything involving a kid is beyond stressful," said Brad Davis, the CAFMA battalion chief on duty at the time.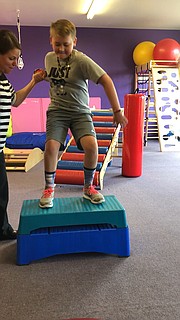 Davis and his crew then realized that Nathan was their coworker's son.
"It makes it more personal," CAFMA captain Rick Olson said.
"These guys did an awesome job though," Davis said, referring to his crew. "They got serious, went to work and didn't let the distraction of who it was get in the way of what they needed to do."
They quickly got Nathan to Yavapai Regional Medical Center in Prescott Valley, where he was transported by helicopter to Phoenix Children's Hospital.
THE OUTCOME
"Early on, they said the percentage was pretty low that he'd fully recover," Olsen said.
But Nathan beat the odds. After intensive care at the hospital, followed by months of physical, occupational and speech therapy, he was back on his feet and going to school.
"He's had a pretty remarkable recovery," Bob said. "He's just living his normal 13-year-old life again now."
A significant part of the story is that the community stepped up to support the family both emotionally and financially.
On the day of the accident, a GoFundMe account was created on behalf of the Rendl family to help cover the medical bills and other related costs. The goal was to raise $10,000 and they ended up with $14,487.
Another local fundraiser was hosted at Anytime Fitness in Prescott Valley, as was a community prayer session at the Prescott Valley Civic Center.
Fortunately, Bob's medical insurance covered the bulk of the cost.
"We now call him our $600,000 boy," Bob said.
On Tuesday, during an anniversary walk organized by his parents in recognition of his recovery, Nathan said he is grateful for everything everyone did for him.
"I feel good because of the support," he said.
CHARGES AGAINST THE DRIVER
The investigation into the incident concluded that it was an honest accident by the 16-year-old girl who hit Nathan.
"There wasn't ever anything that constituted to distracted driving or a speed concern," Lichlyter said. "The only thing that really led to it was not stopping when she should have."
She ended up being charged with failure to render aid at an accident, a class 1 misdemeanor, and failure to stay at an accident involving injury or death, a class 5 felony.
Having pleaded guilty to the charges in November 2018, her sentence was suspended and she was placed on 12 months of probation for each charge.
Lichlyter believes this was a fair punishment given the circumstances.
"They did a good job taking care of her with some consequences without making it unreasonable," he said. "They could have stretched this into something way harsher punishment-wise."
CROSSWALK CONCERNS
The Town of Prescott Valley recently met with Humboldt Unified School District officials about making the crosswalk where Nathan was injured safer.
From that meeting, the town decided it would pay to have a study done at the intersection to look at the options.
"I definitely recognize it as a high-priority location that needs improvement," Prescott Valley Mayor Kell Palguta said. "We'll definitely have something in place at the start of the next school year."
More like this story
SUBMIT FEEDBACK
Click Below to: