Need2Know: Western Heritage Center coming together; sign going up for Deep Well subdivision; internet radio station launches

By
Cindy Barks
|
Cindy_Barks
Originally Published: May 4, 2019 7:22 p.m.
Western Heritage Center ribbon-cutting ceremony set for May 16
The old Sam Hill Hardware Co. building on Whiskey Row is taking on a decidedly Western ambience.
Snippets of history from cowboy poets, rodeo cowboys, and early Yavapai County law enforcement are already on display in the storefront at 156C S. Montezuma St.
Work has been underway for months on the new Western Heritage Center, and the facility is scheduled to open to the public with a ribbon-cutting at 4 p.m. Thursday, May 16.
Robert Greninger, vice president of the Prescott Western Heritage Foundation, says the work will be about 70 percent complete by that time. After the ribbon-cutting, the center will be open on Fridays, Saturdays and Sundays until the work is complete.
Already, plenty of Western history can be seen through the large windows of the building, which most recently served as The Rancher's Wife home furnishings store, and originally housed the Sam Hill Hardware Company.
When complete, the downtown Prescott center will offer a taste of the ranching and mining past of Yavapai County.
New sign goes up at Deep Well Ranch subdivision
A large wood structure that is under construction near the intersection of Pioneer Parkway and Willow Creek Road will serve as an entry sign for the pending Deep Well Ranch subdivision.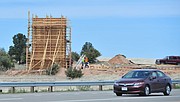 Prescott Planning Manager George Worley reported this past week that the city issued a permit recently for the sign on the northwest corner of the intersection.
The sign is being designed in an old ranch style, Worley said, and will include landscaping.
The permit indicates that the monument sign will consist of 1,165 square feet, and will be 82 feet long, and 25 feet high at its highest point.
The sign is located on a 25-acre portion of the 1,800-acre Deep Well project that was approved by the city in late 2017. Worley said the sign is located amidst the portion that was earmarked as the project's commercial core.
The city has yet to receive plans for the expected commercial development, Worley said.
Internet radio station debuts
Arizona's Hometown Radio Group recently launched an internet station that focuses on the Blues.
Called "BadassBluesPrescott.com," the station is intended to support the Northern Arizona Blues Alliance and its promotion of Blues music events in Prescott, Sedona, and all over Northern Arizona.
The new station, which went on the air March 5, is affiliated with "Badass Blues" KXBB 101.7 FM in the Colorado River region of Arizona. Station owner Sanford Cohen says he created the playlist for Badass Blues from his own personal collection with an eye on promoting Blues Music in perpetuity.
To submit an item for Need2Know, email editors@prescottaz.com; for legal advertisements, email ssialega@prescottaz.com.
More like this story
SUBMIT FEEDBACK
Click Below to: