Local in Brief: Hit the trail and complete the Prescott circle trail challenge
Originally Published: May 4, 2019 8:26 p.m.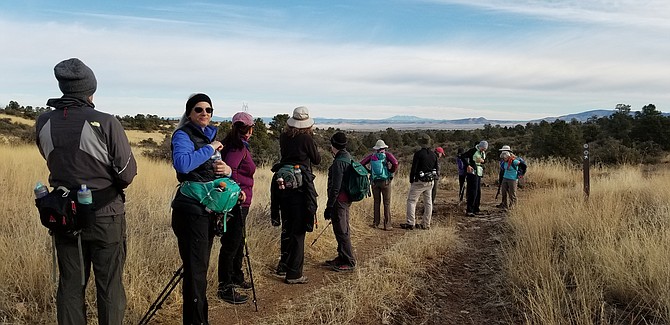 Hit the trail and complete the Prescott circle trail challenge
Back in 1990, the Yavapai Trails Association initiated the idea of a non-motorized trail that would "circle" the city of Prescott. With many partners and volunteers, by late 2014, the 54-mile Prescott Circle Trail was completed for the enjoyment of hikers, equestrians, and mountain bikers.
The topography of the trail ranges from 5,140 to 6,990 feet in elevation, and it passes many Prescott landmarks including Watson, Willow, and Goldwater lakes; Thumb Butte, the mountain that towers over town, and Pioneer Park on the north side of town. There are three campsites along the trail, for those who are interested in camping along the way. The PCT is a beautiful trail that meanders through forest, chaparral and grasslands.
Yavapai Trails Association has partnered with Russ Lyon Sotheby's to offer the community the "Circle Trail Challenge." It is our hope this challenge encourages people of all ages to get outside and spend time on our marquis trail. Get out your hiking poles, saddle your horse, put on a helmet and hit the trail. The trail has been divided into 11 segments to be completed in a day, weeks, months or even years; simply keep track of the sections you complete. The trail is for you, whatever way you chose to complete it, or when.
Finish all the sections of the challenge, and then complete the form at: http://www.yavapai-trails.org/Resources/news_events.html. You will receive a certificate of completion, a Circle Trail Patch or a Circle Trail bumper sticker. You will be a part of history as your name will be added to the permanent PCT Challenge list of completers. Have fun! Be Safe. Follow the trail etiquette rules. We hope to see you on the trail soon. Any questions may be directed to: prescottcircletrailcompleters@gmail.com.
Road construction planned for Pine Drive low-water crossing
Earth Resources Corporation in conjunction with Yavapai County will be performing road improvements on Pine Drive low-water crossing on Pine Drive in Prescott.
Construction will tentatively begin on Monday, May 6 and continue for approximately three weeks. The low-water crossing construction will consist of placing a new culvert pipe, concrete work on the structure, and drainage improvements. Pine Drive will be closed at the low-water crossing.
For additional information, contact Yavapai County Public Works at 928-771-3183 or visit www.yavapai.us/publicworks.
Coffee with a Prescott Valley cop on May 7
Officers from the Prescott Valley Police Department invite residents of the community to join them in an informal, neutral space to discuss community issues, build relationships, and drink free coffee at its next Coffee with a Cop event. The event takes place from 8 to 9:30 a.m. Tuesday, May 7, at Blue Hills Café, 12262 E. Bradshaw Mountain Road in Dewey.
Coffee with a Cop provides an opportunity for the community to ask questions and learn more about the department's work in Prescott Valley's neighborhoods.
"We hope that community members will feel comfortable to ask questions, bring concerns, or simply get to know our officers," Police Chief Bryan Jarrell said. "These interactions are the foundation of community partnerships."
The program aims to advance the practice of community policing through improving relationships between police officers and community members. For information, contact Jerry Ferguson, 928-772-5114 or jferguson@pvaz.net.
Prescott Valley Police Department can be contacted at 928-772-9267 for non-emergencies, 911 for emergencies.

Greater Prescott Trails Annual Planning workshop is May 8

Greater Prescott Trails Planning will host its sixth annual workshop from 6 to 8 p.m. Wednesday, May 8, at the Grace Sparkes Activity Center (The Armory), 824 E. Gurley St. All trail users and groups, local governments, landowners, agencies, all who are interested are invited.
Learn about local trail user groups and how you can help care for the trails. Sign in and you will receive updates on current/future trail system changes.

'It's for the Birds' Spring Fling will benefit Coldwater Farm bird oasis
The public is invited to a fundraising event to benefit the conservation of Coldwater Farm, a bird oasis on the Agua Fria River. Proceeds will go towards establishing a conservation easement on Coldwater Farm to preserve land in perpetuity.
The event will take place from 5 to 8 p.m. Thursday, May 16, at The Barn at Mortimer Farm, Old Black Canyon Hwy, Dewey. Music will be performed by Just 4 Mama. In addition, there will be a presentation on migratory birds by Eric Moore, Jay's Bird Barn. Drinks and appetizers, hayrides, and drawing items, will also be available. RSVP by May 12. Email calt@centralazlandtrust.org. Buy tickets online at www.centralazlandtrust.org, $10, adult, $5, child. At the door, $15, adult, $5, child.
Central Arizona Land Trust (CALT) launched the It's for the Birds campaign to raise the needed funds to cover necessary expenses for establishing the conservation easement and conserving the property in perpetuity. The fundraising goal is $6,000. CALT welcomes donations either by check (marked "It's for the Birds!") or online: www.centralazlandtrust.org/donate.
More like this story
SUBMIT FEEDBACK
Click Below to: