Bashford Court renovation underway with new tenants arriving to fill empty spaces

By
Nanci Hutson
|
HutsonNanci
Originally Published: May 4, 2019 7:27 p.m.
Updated as of Sunday, May 5, 2019 12:15 AM
Craig Hannay remembers boyhood trips to the Prescott downtown J.C. Penney store located in a historic landmark building now known as the Bashford Court Atrium Mall.
Those fond memories likely played a role in why, when the iconic landmark property on East Gurley Street came on the market a year ago, the now Phoenix-based commercial real estate investor opted to restore and revive the retail space that now sports a number of empty store spaces.
Hannay's investment and property management company bought the property from businessman Richard Calabrese for $4.95 million in July 2018, according to Yavapai County Assessor's Office property records. Hannay said he expects to invest $350,000 in the interior renovation expected to be finished by mid- to late June.
Beyond the interior upgrades, Hannay said he intends to refurbish the front exterior but is uncertain at this time how extensive those renovations will be. He said he expects at least new lighting, façade work and a new sign to reflect the historic character. The hope is to coordinate with the owners of the neighboring Burmeister building, also a historic landmark retail space, he said.
In the Bashford Court lobby entrance, adjacent to the quarter century-old Prescott Brewing Company, is an easel with renderings of some $350,000 worth of interior renovations. Just above the diagrams is a sign that reads, "Please pardon our dust."
The renovation drawings show a revival of the historic look while still maintaining modern conveniences. Sliding front doors are expected to be added along with additional lighting fixtures intended to illuminate but in a style reminiscent of the building's revered past, Hannay said.
The walls are to be repainted in earth tones — warm reds, tans and grays — with classic wrought-iron railings and brick veneer. The wood floors will also be refurbished, and restrooms updated, he said.
Second-floor history photos and an old safe door dating back to the building's origins will be relocated to the main floor.
"We're trying to go back a little to what the building originally was," Hannay said. "We're real excited about it."
Though he never expected to buy development property in his hometown — Hannay's company is involved with real estate throughout the nation's western corridor east to Chicago — he said the prospects of such a special place appealed to him and his colleagues.
"We liked the stability of the asset and the location right downtown," Hannay said. "It's a good asset for us from a couple perspectives."
Yet, he said he was well aware the property needed to be refreshed to attract a new blend of stores and customers.
"It needs some TLC (tender loving care)," Hannay said.
VENEER & SPACE
Starting right at the elevator, the renovation plans call for taking off the 1990s wallpaper and putting in a brick veneer all around the lighted, glass elevator that enables visitors to look at the shops as they rise, Director of Acquisitions Michael Meath said.
Some of the cabinetry located around exits is to be removed creating more open space, he said.
Refreshing the paint with period colors and polishing the original wood floors will create a "neat look," Meath said.
On the practical side, the new building owners also intend to make it more customer-friendly with proper signage and an easy-to-read store directory.
STORES
As for adding tenants, the mall is already starting to see signage for new stores, including the storefront across from the Prescott Brewing Company that is soon to be the new home of Arizona Earth, which will feature one-of-a-kind Southwestern art and gifts, including musical instruments and natural gem stones.
In the same suite is the Relaxing Foot Spa-Reflexology that opened in December.
On the third floor there is a sign for a new bakery, The Crazy Bakers, that Meath expects will open any day now.
On the second floor, Plenty Uncommon Imports is also scheduled to open soon, offering unique items from all over the world.
Current mall tenants, including new ones, are eager for both the renovations and arrival of new stores.
The owners of the Purple Clover clothing store, Maria Gannon and Michelle Beck, said they are delighted that this historic space is going to get a much-needed facelift likely to attract tenants and customers.
"Bashford Court has been a mainstay for tourists and residents alike," said Gannon, who with her partner opened the second-floor store in September. "It's going to be beautiful."
Prescott Mayor Greg Mengarelli is also eager for the restoration.
"Bashford Court is a very iconic building on the plaza, so we need to be sure to take care of it," Mengarelli said.
From what he knows of the plans for both the interior and exterior, Mengarelli said the new owners have "tremendous vision" for transforming this into a must-visit place that melds with its neighbors.
"We're very excited about it … and we think residents will be very pleased with the renovations," the mayor concluded.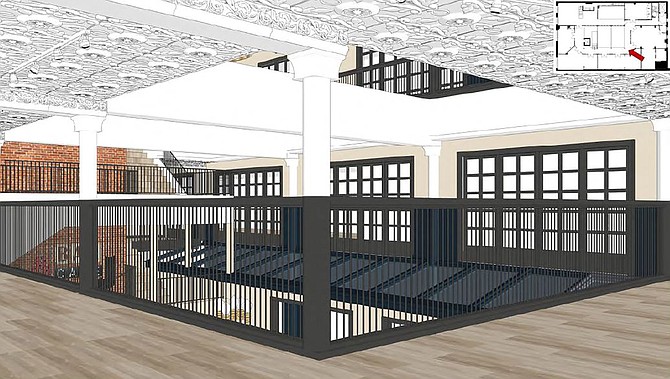 More like this story
SUBMIT FEEDBACK
Click Below to: