Mustang owners show off their projects

Originally Published: May 2, 2019 10:41 p.m.
Mustangs of all kinds, from the daily drivers to the lawn ornaments, will be out at the Mustang Project Cruise Car Show this weekend.
With at least 100 Mustangs of any year, model and condition going to be there, it's filling up pretty well, said organizer Don Stewart. It hasn't changed much since last year either.
"It's still the first Mustang cruise of the summer," he said. "Designed specifically for folks who want to come out and show off their cars in any condition."
Held from 10 a.m. to 3 p.m. Saturday, May 4, there's more than 50 years of Mustangs out there and the show will have at least one or two of the newest models, Stewart said. This show gives people the chance to show off their projects before working on them during the summer, he said.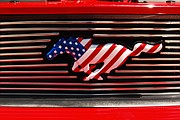 People will come back to show what they've done during the summer at the October cruise, Stewart said. Locals as well as people from around the state bring their cars as do people from out of state who plan their vacations around being able to attend the show, organizer Debbie Stewart said.
Admission and vehicle registration for the event, in the parking lot of Walmart at 3050 Highway 69, is free. Proceeds that come in from voluntary donations goes to the Yavapai County Jeep Posse.
There also are drawings for various prizes such as hotel stays in Laughlin, guest passes for exhibits in the quad-city area and Phoenix, and restaurant gift certificates. People can enter to win the prize they want.
The show is also a great way for people who want to learn more about doing certain things on their own cars to have a chance to pick the brains of those who have already done it, Debbie Stewart said.
"It's a great way to share what you've done or what you'd like to do," she said.
For more information about the Mustang Project Cruise Car Show, visit www.mustangprojectcruise.com.
More like this story
SUBMIT FEEDBACK
Click Below to: