Need2Know: Whiskey Row's Holiday Courtyard; Pralines of Prescott expanding; locally made 100 percent natural soaps.

By
Cindy Barks
|
Cindy_Barks
Originally Published: March 30, 2019 8:26 p.m.
Updated as of Sunday, March 31, 2019 12:45 AM
Whiskey Row's Holiday Courtyard to add indoor space
Downtown Prescott's Holiday Courtyard on Whiskey Row will soon add an indoor component to its popular outdoor venue.
Nancy Hinson, co-owner of the Holiday Courtyard and adjoining Grand Highland Hotel at 154 S. Montezuma St., said renovation work is underway on the street-level space that previously served as the Ortega's Traders shop.
After Ortega's opted not to renew its lease, Hinson said the building owners decided to convert the brick-lined space into a street-level hotel reception area for the Grand Highland, as well as a ballroom/conference space, and a casual "Holiday Hub" room.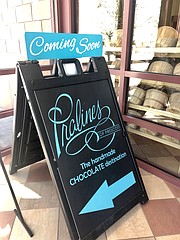 The new features are expected to be done by late May/early June.
The outdoor courtyard, which is popular for weddings and other community events, will now offer the option of an accompanying indoor space, including dressing rooms — a common request of brides, Hinson said.
Local chocolatier Pralines of Prescott expanding into old Wildflower space
Within the week, fans of longtime downtown favorite Pralines of Prescott will be able to get their local chocolate fix at the Prescott Gateway Mall.
Sean Babb, co-owner of Pralines of Prescott, said the business will add a new site, as of the week of April 1.
Renovation work is currently underway at the old Wildflower Bread Company's space at the Prescott Gateway Mall to accommodate a second location and main production site for Pralines of Prescott.
Babb says the business will maintain its downtown location at the Old Capitol Market, 120 W. Gurley St. as well, as it adds the larger site at the mall, 3250 Gateway Boulevard, Suite 424.
Although work might not be 100 percent complete on April 1, Babb says Pralines of Prescott plans to open for business that week. Future plans include adding baked goods and table seating area in the old Wildflower venue.
100 percent natural, locally made soaps join Gateway Mall lineup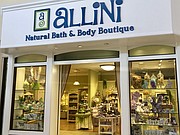 A purveyor of all-natural skin products — many of which are locally-made — has joined the collection of new shopping options at the Prescott Gateway Mall.

The Allini Natural Bath & Body Boutique — featuring products such as handcrafted artisan soaps, all-natural bath bombs, and children's and men's skin products — opened at the mall about a month ago, said owner Alina Walicki.
Matthew Fish, leasing broker for the Prescott Gateway Mall, said new shops including Allini, Pralines of Prescott, and Foot Fetish are among a dozen or so new businesses that are either in the works at the mall or recently opened.
To submit items for the Courier's Need2Know, email twieds@prescottaz.com; for legal advertisements, email ssialega@prescottaz.com.
More like this story
SUBMIT FEEDBACK
Click Below to: