CDC: Fentanyl deaths increasing fastest among men, people of color, young adults
New data show which groups have been hardest hit by epidemic

Originally Published: March 30, 2019 10:58 p.m.
Fentanyl already has been identified as an incredibly dangerous substance that is responsible for more overdose deaths than any other drug in recent years, but health officials are now learning just how lethal it is and what groups of people are being hit the hardest by this epidemic.
Using data collected from death certificates, a new report by the Centers for Disease Control (CDC) provides the when, where and who for fentanyl-involved drug overdose deaths in the U.S. from 2011 through 2016.
The report found fentanyl deaths increased about 11-fold in those five years, from more than 1,600 in 2011 to more than 18,000 by the end of 2016.
"These are pretty astounding numbers in terms of the percentage increase per year," researcher Merianne Spencer, a statistician at the CDC's National Center for Health Statistics, told U.S. News and World Report.
The report also showed these deaths often involved other drugs. For example, in 2016, nearly 70 percent of deaths involving fentanyl also involved one or more other drugs, such as heroin or cocaine.

To help understand this epidemic's impact on
various populations, CDC researchers broke the data down by sex, age, region and race/ethnicity.
MALES OVERDOSE MORE
Fentanyl-involved overdose death rates for both males and females began to increase exponentially in 2013, but it's clear who was dying more: males. By 2016, about three times as many males had died compared to females.
Marilee Fowler, executive director of MatForce and a founding member of the Yavapai County Overdose Fatality Review Board, said this matches up with what she and her colleagues have been seeing since they started tracking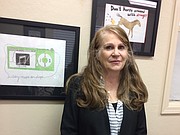 local overdose deaths in 2016.

"That trend with males is definitely true in Yavapai County," she said. "I think we've had seven fentanyl deaths since 2016, and there's only one that's a female."
As to why this is, she's not entirely sure.

"Just speculating, I think in some cases men might be bigger risk-takers than women," she said.
She also thinks it has to do with who is getting addicted to opioids in the first place.
"So much of the time it boils down to who has an opioid-use disorder and how they get to that point," she said.
YOUNG ADULTS TOP THE LIST
Looking at age, the CDC report found that young adults aged 25 to 34 died the most in those five years from fentanyl-involved overdoses, followed by those aged 35 to 44. Worth noting, however, is the death rate for those aged 15 to 24 increased an average of 94 percent each year, second only to the average annual percent change for 25 to 34 year olds (100 percent per year).
The fentanyl-involved overdose deaths in Yavapai County since 2016 once again line up with these findings.
"The fentanyl deaths have definitely been in that age range," Fowler said. "I can think of a 24 year old, a 22 year old, we had one that was in their early 30s, and, of course, the two 19 year olds (Gunner Bundrick and Jake Morales). I can't think of anyone who was older than that who has died from a fentanyl overdose."
BLACK, HISPANIC COMMUNITIES HIT HARDEST
As far as race and ethnicity are concerned, the CDC report found that people of color saw the greatest increases in rates of fentanyl-related fatalities.
Within the black community, fentanyl-related deaths increased 140.6 percent every year on average. The average annual increase in the Hispanic community was 118.3 percent.
Given their larger population in the U.S., non-Hispanic whites died more overall in the five years, but their overdose death rate, percentage wise, remained lower than blacks and Hispanics.
Fowler said Yavapai County falls more in the latter grouping with its fentanyl deaths given the area's mostly non-Hispanic white population.
"There might have been a few exceptions, but it's been predominantly Caucasian in Yavapai County," she said.
WHERE THE DEATHS OCCURRED
Rates of drug overdose deaths involving fentanyl increased exponentially from 2011 through 2016 for most public heath regions, according to the report.

The greatest increases occurred on the east coast and upper Midwest. The west coast, including Arizona, saw very little change in comparison.

Whether or not an area is a hotspot for such deaths, however, the fentanyl scourge is something that needs to be addressed in every community, said John Morris, chief officer for Yavapai County Adult Probation and another member of the Yavapai County Overdose Fatality Review Board.
"We see it hit too many people," Morris said. "Whoever it is, it's not good."
#StopFentanylNow
SUBMIT FEEDBACK
Click Below to:
More like this story