Why are flags at half-staff today, March 28, 2019
Originally Published: March 28, 2019 3:48 a.m.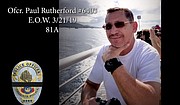 Gov. Doug Ducey has ordered that flags at all state buildings be lowered to half-staff from sunrise to sunset on Thursday, March 28, 2019, for the interment of Phoenix Police Department Officer Paul Rutherford, who died in the line of duty last week after being struck by a vehicle.
Individuals, businesses, and other organizations are encouraged to join in this tribute.
Rutherford, 51, was struck while on the roadway and died after being transported to a hospital in extremely critical condition, said a police spokesman.
He had been a policeman for nearly 23 years. He was married and had two adult children.
In an earlier statement, Ducey said Rutherford's death "provides yet another example of the dangers faced by law enforcement every day to keep us and our communities safe."
SUBMIT FEEDBACK
Click Below to:
More like this story