Now Showing: March 29-April 4
Originally Published: March 28, 2019 8:46 p.m.
Movies playing at Harkins Theatres, 7202 Pav Way, Prescott Valley (Highway 69 between Glassford Hill and Lake Valley roads), as of press time. 928-775-7444; www.harkins.com.
(NEW) DUMBO - Struggling circus owner Max Medici enlists a former star and his two children to care for Dumbo, a baby elephant born with oversized ears. When the family discovers that the animal can fly, it soon becomes the main attraction -- bringing in huge audiences and revitalizing the run-down circus. The elephant's magical ability also draws the attention of V.A. Vandevere, an entrepreneur who wants to showcase Dumbo in his latest, larger-than-life entertainment venture. Stars Colin Farrell, Michael Keaton, Danny DeVito, Eva Green, Alan Arkin. PG – fantasy, adventure
(NEW) HOTEL MUMBAI - Terror strikes in the heart of Mumbai, India, as members of Lashkar-e-Taiba storm the Taj Mahal Palace Hotel in a series of coordinated attacks throughout the city.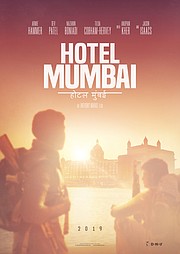 Amid the gunfire and mayhem, a brave chef and kitchen worker decide to risk their own lives to try and protect the frightened guests. As the militants continue their assault on the hotel, a desperate couple must do whatever they can to protect their newborn baby. Stars Dev Patel, Armie Hammer, Nazanin Bonaidi, Tilda Cobham-Hervey, Anupam Kher, Jason Isaccs. R – drama, thriller
(NEW) UNPLANNED - Abby Johnson becomes the youngest clinic director in the history of Planned Parenthood, then a life-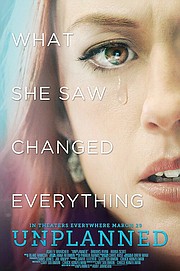 changing experience turns her into an anti-abortion activist. Stars Ashley Bratcher, Brooks Ryan, Robia Scott, Jared Lotz, Emma Elle Roberts. R - drama
Also showing:
(NEW) US - Accompanied by her husband, son and daughter, Adelaide Wilson returns to the beachfront home where she grew up as a child. Haunted by a traumatic experience from the past, Adelaide grows increasingly concerned that something bad is going to happen. Her worst fears soon become a reality when four masked strangers descend upon the house, forcing the Wilsons into a fight for survival. When the masks come off, the family is horrified to learn that each attacker takes the appearance of one of them. Stars Lupita Nyong'o, Winston Duke, Elisabeth Moss, Tim Heidecker. R – mystery, thriller.
WONDER PARK - Wonder Park tells the story of a magnificent amusement park where the imagination of a wildly creative girl named June comes alive. Stars Brianna Denski, Kenan Thompson, Ken Jeong, Mila Kunis, John Oliver, Jennifer Garner, Matthew Broderick. PG – fantasy.
APOLLO 11 – The 1969 Apollo 11 mission was the first spaceflight to land men on the Moon. Not Rated – documentary.
GLORIA BELL - A free-spirited divorcee spends her nights on the dance floor, joyfully letting loose at clubs around Los Angeles. She soon finds herself thrust into an unexpected new romance, filled with the joys of budding love and the complications of dating. Stars Julianne Moore, John Turturro, Michael Cera, Caren Pistorius, Brad Garrett, Jeanne Tripplehorn, Rita Wilson, Chris Mulkey, Sean Astin, Holland Taylor. R – drama, romance.
FIVE FEET APART - Seventeen-year-old Stella spends most of her time in the hospital as a cystic fibrosis patient. Her life is full of routines, boundaries and self-control -- all of which get put to the test when she meets Will, an impossibly charming teen who has the same illness. There's an instant flirtation, though restrictions dictate that they must maintain a safe distance between them. As their connection intensifies, so does the temptation to throw the rules out the window and embrace that attraction. Stars Haley Lu Richardson, Cole Sprouse. PG-13 – drama, romance.
CAPTIVE STATE - Residents of a Chicago neighbourhood deal with life under extraterrestrial rule. Stars John Goodman, Ashton Sanders, Jonathan Majors, Machine Gun Kelly, Vera Farmiga. PG-13 – thriller, fantasy.
CAPTAIN MARVEL - Captain Marvel gets caught in the middle of a galactic war between two alien races. Stars Brie Larson, Samuel L. Jackson, Ben Mendelsohn, Djimon Hounsou, Lee Pace, Lashana Lynch, Gemma Chan, Annette Benning, Clark Gregg, Jude Law. PG-13 – fantasy, science fiction.
THE KID - In 1879 Rio and his teenage sister go on the run across the American Southwest to escape from their violent uncle. Along the way, Rio encounters the infamous outlaw Billy the Kid and the legendary lawman Pat Garrett. He soon finds himself caught in the crossfire as Billy and Garrett square off in a deadly game of cat and mouse. Stars Ethan Hawke, Dan DeHaan, Jake Schur, Leila George, Chris Pratt. R – drama, western.
TYLER PERRY'S A MADEA FAMILY FUNERAL - A joyous family reunion turns into an unexpected nightmare when Madea and the gang find themselves planning a funeral in the backwoods of Georgia. Stars Cassi Davis, Patrice Lovely, Tyler Perry. PG-13 – comedy.
FIGHTING WITH MY FAMILY - Born into a tight-knit wrestling family, Paige and her brother Zak are ecstatic when they get the once-in-a-lifetime opportunity to try out for the WWE. But when only Paige earns a spot in the competitive training program, she must leave her loved ones behind and face this new cutthroat world alone. Paige's journey pushes her to dig deep and ultimately prove to the world that what makes her different is the very thing that can make her a star. Stars Florence Pugh, Lena Headey, Nick Frost, Vince Vaughn, Dwayne Johnson. PG-13 – drama, sport.
HOW TO TRAIN YOUR DRAGON: THE HIDDEN WORLD - From DreamWorks Animation comes a surprising tale about growing up, finding the courage to face the unknown…and how nothing can ever train you to let go. What began as an unlikely friendship between an adolescent Viking and a fearsome Night Fury dragon has become an epic adventure spanning their lives. Welcome to the most astonishing chapter of one of the most beloved animated franchises in film history: How to Train Your Dragon: The Hidden World. Now chief and ruler of Berk alongside Astrid, Hiccup has created a gloriously chaotic dragon utopia. When the sudden appearance of female Light Fury coincides with the darkest threat their village has ever faced, Hiccup and Toothless must leave the only home they've known and journey to a hidden world thought only to exist in myth. As their true destines are revealed, dragon and rider will fight together—to the very ends of the Earth—to protect everything they've grown to treasure. Stars Jay Baruchel, America Ferrera, Cate Blanchett, Fraig Ferguson, F. Murray Abraham. PG – fantasy, action.
More like this story
SUBMIT FEEDBACK
Click Below to: