Cut loose with Footloose

Originally Published: March 28, 2019 9:19 p.m.
Cut loose at Prescott High School's Ruth Street Theatre next week as the drama department begins a three-day run of "Footloose the Musical."
"We wanted to do something classic and well-known without being too old," said Layla Tenney, the show's director and drama teacher at Prescott High School. " 'Footloose' is a good choice because it's sort of right in the middle of too old and too new."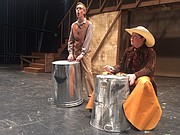 The show's set includes 16-foot tall, 35-foot long bridge, which every production of "Footloose" has, Tenney said. There are 10 full-grown teenagers on the bridge at one point, she said. As a whole, there are 36 students in the cast and crew and the show features more than 100 costumes, Tenney said.
Showtimes for "Footloose" are at 7 p.m. Thursday through Saturday, April 4-6 with a 2 p.m. show Saturday. Tickets are $10 for adults and $8 for students, available at the door, at the Prescott High School bookstore and the GoFan app.

Not only is the show relatable, with Prescott being a small town similar to the show's Bomont, but it also evokes nostalgia, Tenney said.
"There's several really popular songs that are from the original movie with Kevin Bacon that were on the radio," she said. "Our generation, or their parent's generation, knows the Kevin Bacon 'Footloose' and all those songs on the radio."
Kirsten Cordova, who plays Ariel Moore in the show, said "Footloose" has been one of her favorite musicals since she can remember and fell in love with the movie. Ariel was one of her dream roles, Cordova said, noting her favorite part of the show is the "Mama Says" number. It's one of the most fun numbers the play has and a funny song with the best dance moves, she said.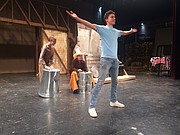 Everyone's been working really hard on it, said Isaiah Carman, who plays Ren McCormack. Both he and Cordova said they are excited to put it on.
"As long as we bring the energy, it's going to be a great show," Carman said, stating his favorite part is the "Can't Stand Still" number. "I just get to jam out and have fun. It's a lot of freedom for me to own the stage for a few minutes."
All shows are at Prescott High School's Ruth Street Theatre, 1050 N. Ruth St. For more information, call Tenney at 928-445-5400 or visit www.prescottschools.com/phs/phs-presents-footloose-the-musical/.
More like this story
SUBMIT FEEDBACK
Click Below to: