Insurgent Brewing continuously growing in Chino Valley
Business in Spotlight

Originally Published: March 25, 2019 4:21 p.m.
As Insurgent Brewing Company nears its three-year anniversary, owner Rob Valenzuela said things have been going great and that he is continuously growing the only brewery in Chino Valley.
"We're actually to the point now where we're considering expansion plans," Valenzuela said. "We're going to be getting into canning here pretty soon."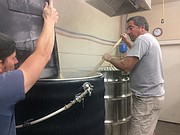 After looking on Facebook and seeing people complain about the offerings in Chino Valley, he figured he could easily open a bigger brewery with a full blown restaurant, he said. Enough people are behind it, the town has been receptive to putting in more water and sewer and he's working on it, Valenzuela said.
When he and his wife opened Insurgent Brewing Company in 2016, it came out of a natural progression of things, he said. Brewing his own beer started out as an economic decision, realizing he could make his own better-tasting beer for a lot less than it would cost to buy it, Valenzuela said. So he started doing it at home, then his neighbors got involved and then came the brewery.
There were also other things that happened in life, like a serious rock climbing accident where he almost died, Valenzuela said. Leaving his family with an old pile of climbing gear wasn't the legacy he wanted to leave behind.
As a whole, Valenzuela said he's enjoyed seeing the endeavor work and having people come in to the brewery, located at 990 Highway 89 Suite B. Insurgent Brewing Company isn't a typical bar and is family friendly.
"I've had many people come here and thank me for being a decent place to come have a drink," Valenzuela said.
His personal philosophy on creating beer recipes is he likes to have beers that are enjoyable and his personal preference is strong, he said. Not everybody is like that though, which is why he created his Infidel IPA.
Named for the actual definition of "infidel," which is "nonbeliever," he said he has people who come into the brewery saying they don't like IPA try it.
"They end up liking it because it's not bitter," Valenzuela said. "It's hoppy, but the hops I use and the times I introduce them into the beer means you get that hop aroma but not the wicked bitterness."
Further, he said his best-selling beer is called Laura's Red, which was originally a mistake. One morning, he was going to do a fresh wet hop addition double IPA, but since the volume of the wet hops is much bigger than what he normally uses which are pelletized so he had to mentally divide the recipe in half, Valenzuela said. He wound up doubling the grain, making the drink red, and everybody loved it.
Insurgent Brewing Company can be reached at 928-636-9077.
More like this story
SUBMIT FEEDBACK
Click Below to: