Chino Valley Cruise Nites kick off again in April
Local man's obsession with Oldsmobiles continues too
Originally Published: March 25, 2019 5:30 p.m.
Attention car enthusiasts! Chino Valley Cruise Nites will be starting up April 5, from 4 to 8 p.m. at their regular hang out, Chino Valley McDonald's parking lot. For those of you who love beautiful classic cars, fun, and good fellowship with other car lovers, you need to attend this event which will continue the first Friday night of each month through October.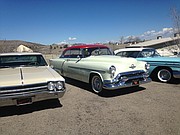 Jim Schultz, who organized this event over 20 years ago, will be there with one of his classic Oldsmobiles on display — in addition to other car owners with their Chevys, Fords, etc. Chino Valley Cruise Nite is the longest running and largest cruise night in Northern Arizona.
"McDonald's has been so great to us over the years, and I really want to thank them. Each event they give us 12 value meals to raffle off (each attending car is given a raffle ticket when they arrive); we also raffle off car related items," Schultz said.
"I was born into a family of Oldsmobile fans, my dad was a mechanic at an Olds dealership and I worked with him at his own garage growing up," Schultz said.
In fact, "my first ride was in an Oldsmobile, as that was what I was brought home in from the hospital when I was born," he smiled.
Schultz started collecting Oldsmobiles many years ago and has acquired several. His cars range in age from 1940 to 1989.
"I do drive them all as much as I can to keep them in good running condition. I will be driving my 89 Custom Cruiser to New York this summer with my two Labs, Eddie and Zoe, to see my mom and to retrieve a 1956 Olds 98 Holiday Coup," Schultz said.
Schultz is known worldwide for his Oldsmobiles and has been featured in Hemmings Classic Car magazine and also the Wall Street Journal. He enjoys going to car shows around the country and displaying his classic Oldsmobiles of which a large percentage still have the original paint jobs and interiors.
"When asked why I prefer Oldsmobiles, I guess it's because as my father and I worked on them over the years it proved to us that they were built with a lot of pride and are a far superior car in my opinion."
More like this story
SUBMIT FEEDBACK
Click Below to:
This Week's Circulars
To view money-saving ads...