VA chief of staff wants veterans to get high quality of care
Advocating for 'those in the trenches'

By
Nanci Hutson
|
HutsonNanci
Originally Published: March 23, 2019 6:34 p.m.
At a time of leadership transition in the Prescott VA, Dr. A. Panneer Selvam's skills as a long-time physician with a patient-first belief and approach are offering comfort to veterans about their health care.
Appointed in December as the local VA's chief of staff, the 55-year-old doctor from India who has been practicing internal medicine with the federal VA system since 1997 wants to create an environment of trust for veteran patients and staff alike. He wants everyone to be heard and know that the VA's mission to "serve those who served" is steadfast as the agency renovates, expands and evolves in a time of rapid change in the nation's health care industry.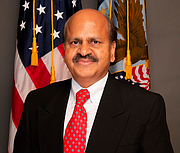 In June, the federal Mission Act will come into place that will offer veterans more health care choices, be that at VA facilities or through community providers. Selvam wants to be veterans' first choice.
"I'm an optimist," said Selvam who is his second stint as the Prescott VA's chief of staff; he came to Prescott in 2005 where he initially served as chief of staff until 2013 before resuming a role in clinical practice and leadership. "I believe we can stay competitive by providing the best quality care and giving our patients a first class experience."
At a recent Town Hall meeting in Prescott Valley, Selvam got some good feedback from attending veterans about strengths as well as areas in need of improvement, including communication. He said he is open to hearing veterans' concerns because unless they are voiced nothing can be done to improve them. Through critics, the VA has installed a new communications center that will make it far easier for veterans and their families to be in touch with their primary care teams, he said.
A couple of veterans lauded Selvam for his patient-centric approach, and lamented he would no longer be their physician. But Selvam said he is still seeing patients at the emergency room one half-day a week. The rest of the time he is attending to administrative duties that include recruiting new physicians and full-time leaders that will replace those the VA lost last year.
Selvam replaced Dr. M. Keith Piatt as chief of staff and is awaiting word on the hiring of a new nursing executive. He, too, is seeking a new primary care medical director and a mental health services unit manager.
He earned his medical degree in 1987 in India and has served residencies in India, Ireland and the United States.
"I grew up to be a useful citizen and to serve people, and to do so I chose to be a doctor," Selvam said.
Through his medical career, particularly working with veterans, Selvam said he has found great fulfillment, personally and professionally. He admits he was a bit skeptical about making the leap between patient care and management.
Yet colleagues in Columbia, Missouri, convinced him as they saw him as the type of leader they wanted.
"I felt a sense of responsibility," said Selvam, who with his wife, Gandhi, has two adult children: son, Nikil, 26, and daughter, Sathana, 22.
Advancing into management ranks offered a new perspective on the medical profession Selvam said he believes has proved a positive influence on how he cares for patients and communicates with colleagues.
The local VA's Medical Director Barbara Oemcke said Selvam's "leadership experience in health care and his dedication to serving veterans make him a great asset to us."
The Northern Arizona Veteran Affairs Health Care System covers 65,000 square miles and serves 29,600 veterans.
From his vantage point, Selvam said he sees his role as an advocate for "those in the trenches."
"We're all one team, top to bottom and bottom to top," Selvam said. "We rise together, or we fall together."
Selvam's decision to pursue a medical career started when he was a growing up in India.
"First and foremost I knew I wanted to serve people; I wanted to be able to care for and heal people," said Selvam who is a 2007 graduate of the VA Health Care Leadership Institute and has served as both a coach and mentor for executive career candidates.
As he grows in his career, Selvam said he is grounded in a tradition of "good ethical medicine" that requires always striving to "do what's right for patients."
"There's an art and a science phase to medicine. You may be a great doctor with science, but if your patients don't trust you, your science is of no use," Selvam said.
In this time of transition within the federal VA health care system, Selvam said his focus will be to assure the VA retains a "quality of care that is second to none."
"It's all about the human connection," he concluded.
More like this story
SUBMIT FEEDBACK
Click Below to: