Defense works to avoid death penalty in double murder of Prescott Valley couple
Defendant described as a good husband, father; trial expected to wrap up in early April

By
Max Efrein
|
mefrein
Originally Published: March 23, 2019 9:40 p.m.
Now in its ninth week, the trial of Kenneth Wayne Thompson II for the pre-meditated murder of a Prescott Valley couple in 2012 is progressing through the final of three phases.
Thompson, 35, was found guilty in late February of brutally killing his sister-in-law, Penny Edwards, 35, and her fiancé, Troy Dunn, 38, seven years ago in their Prescott Valley home.
He was then found guilty of all aggravating factors alleged in the case, making him eligible for the death penalty.
Thompson's defense attorneys are now trying to convince the jury to sentence Thompson to life in prison rather than state-administered death during what is called the penalty, or mitigation, phase.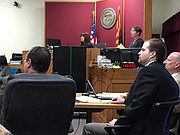 Over the past couple weeks, the defense has been presenting Thompson's life history to the jury. Some of what has been covered so far include descriptions of Thompson's childhood as difficult; his family's roots in Scientology; and how he was allegedly physically, mentally and sexually abused while growing up.
On Thursday, March 21, Gloria Thompson, the defendant's wife at the time of the murders and mother of his two children, took the stand to testify about her former relationship with Thompson and the build up to the murders.
Gloria and Thompson had met via an online dating website in 2008. They were married in 2010 and soon after had their first child together, a son. Fifteen months later they had their second child, a daughter.
Gregory Parzych, one of Thompson's three defense attorneys, asked Gloria if she and Thompson were a happily married couple at the time.
"For the most part we were," Gloria said.
When asked if Thompson was a good father, she said he was.
Parzych then showed the 12-member jury a number of photo slideshows put together by Thompson's grandmother years before. The pictures were of Gloria and Thompson before and after they had their children. They were shown smiling with family, friends and their young children.
A video taken by Parzych more recently was also shown to the jury. It was of Gloria with her two children on their property in Missouri. Both children expressed love for their father in the video.
"I miss you and hope you come back to us," his son said.
The video had been taken before the kids truly knew what their father had done, but Gloria said they still love him even today.
Parzych also went over in detail with Gloria what she had gone through with her sister before Thompson decided to travel to Arizona and kill Edwards and her fiancé with a knife and hatchet.
Throughout the trial, the defense has argued that Thompson went to confront Edwards because of his concern for her two children.
Gloria said Edwards had a checkered history with her children. When her daughter was 6 years old, Edwards' boyfriend at the time sexually molested the child, Gloria said. The experience left her niece completely traumatized, Gloria said.
"She had to sleep with a baseball bat to feel secure in her own bed," she said.
Edwards also began using drugs and ended up spending time in jail, Gloria said.

This all eventually led to Gloria taking guardianship of the two children for several years. Edwards managed to get her children back, but concerns involving drugs, parenting and the safety of the children continued to arise, Gloria said.
Gloria said she consistently expressed these concerns to Arizona Child Protective Services but that little was done to fix the problems.
"They were my family too, and they needed someone willing to help them," Gloria said.
Parzych leaned on this point and connected Thompson to the equation.
"And Kenny saw that as well, what was going on and how that bothered you, correct?" Parzych said.
"Yes, I'm sure he did," Gloria said.
Attorneys in the case estimate the trial's proceedings will wrap up by Thursday, March 28, at which point the jury will begin its deliberation regarding the alleged mitigating factors.
Follow Max Efrein on Twitter @mefrein, email him at mefrein@prescottaz.com or call him at 928-445-3333 ext. 1105.
More like this story
SUBMIT FEEDBACK
Click Below to: