Thank You Notes: Fire, Community Garden, dinner check, Angels
Originally Published: March 22, 2019 7:30 p.m.
Fire — bad, good
Editor:
My husband and I lost our home, vehicles and most personal property in a Pinon Oaks home fire the early morning of March 14. It was the worst day of our lives, and the most blessed day of our lives.
We would like to thank the Prescott Fire Department for its timely response and unrelenting efforts to save our home.
We also want to thank all the "Pinon Oaks Folks" who worked tirelessly throughout the day salvaging what they could from our home. Special gratitude goes to: American Red Cross of Northern Arizona, Larry and Carol Bessel, Kathy Arnspiger and the Pinon Oaks Bunco Ladies, Lawrence and Virginia Caire, Dave Franz, Kalli and Kristin Myren, Jim and Deborah Olsen, Paul and Audrey Ribarich, Art and Robyn Rousseau, Frank and Debra Watson, Jim Zimmerman, and Dr. Ken Skinner, DVM, who graciously lent us and continues to lend us, the use of a trailer to store our salvaged belongings until we can move them to a secure location.
These people and more, came to our rescue with offers of food, clothing, a place to stay and use of their vehicles, and we are blessed to know you. We are forever indebted to you. From the bottom of our hearts, thank you for everything you have done for us, and everything you continue to do. People like you make Prescott a wonderful place to live.
Eric and Linda Myren
Prescott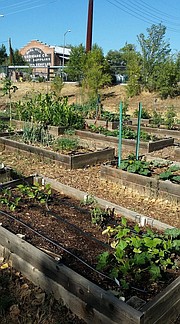 Community Garden
Editor:
The Prescott Community Garden would like to thank the dozens of participants and volunteers who kept the garden alive and thriving for more than seven years. In particular we'd like to thank:
• Jeff Schalau and Master Gardeners of the University of Arizona Cooperative Extension;
• Eric Smith, Joe Baynes and Patti Colvin from the City of Prescott Parks and Recreation Department;
• Rebecca Serratos, Program Coordinator of SNAP-Ed., Yavapai County;
• George Sheats from the Over the Hill Gang;
• Molly Beverly from Prescott Slow Food;
• Barnabas Kane;
• Prescott College;
• Rita Rubin from Yavapai Regional Medical Center's "Your Healthy Kitchen";
• Prescott YMCA Community Garden;
• ProWater Irrigation Supply;
• Steve Miller from Native Garden;
• Foxworth Galbraith;
• The Prescott Community Garden's original Board of Directors — Joyce Koressel, Ray Cage and Hannah Trujillo; and,
• Patti Indelicato – Education and Outreach Manager of Prescott Community Garden.
Thank you to you all for your love and hard work toward creating something beautiful together in Prescott!
The Prescott Community Garden Board of Directors
Dinner check
Editor:
On Saturday evening, Jan. 11, while we were dining at the Red Lobster restaurant in Prescott, a stranger stopped by our table and said he had picked up our dinner check and dropped money on our table so we could have a dessert, then he disappeared. Shortly thereafter the waitress told us that a person who had been sitting in a booth a short distance away from us had paid for our meals.
Shocked and dismayed, we spent the rest of our dinner evening wondering who he was and why had he paid for our dinner. Did he know us? If so, why didn't he introduce himself? From time to time you hear of such events, but it never had ever happened to us. I thought, "Did we thank him?" If not we do now. We hope he reads this.
We shall never forget the kindness of a stranger. Sincerely,
Jerry Burress & Bill Cart
Prescott
Angels
Editor:
The Chino Valley Salvation Army wishes to extend a huge thank you to the following for their generous support of the Chino Valley/Paulden Christmas Angel program. The help we received from the following, as well as those who adopt off the Christmas Angel tree, helped to give approximately 300 children a Christmas they may not have otherwise received:
• Chino Valley Rotary Club;
• Mint Creek Homeowners Association;
• Toys for Tots;
• Drake Cement;
• Chino Valley Safeway;
• St. Catherine's Ladies Auxilliary;
• Chino Valley Community Church;
• Saint Vincent dePaul; and,
• Stitchers for Jesus.
In addition, without the tremendous amount of time provided by Al Gibbons, the Chino Valley Salvation Army would likely falter. He has taken on the task of running the Red Kettle program for the past several years, and this program is what sustains the Chino Valley Salvation Army throughout each year, so more than a thousand thank yous to the generosity of this man.
Chino Valley Salvation Army volunteers
More like this story
SUBMIT FEEDBACK
Click Below to: