Prescott Valley police make 52-pound meth bust
Originally Published: March 22, 2019 1:06 p.m.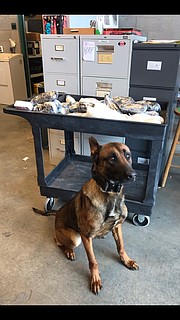 Alberto Vasquez, 26, and Patricio Quintero, 23, were arrested at about 10:10 a.m. Thursday, March 21, after Prescott Valley Police officers found 52 pounds of meth in their vehicle, according to a news release from PVPD Public Information Officer James Risinger.
The department's K9 officers were working a drug interdiction detail along Interstate 17 in Yavapai County when they conducted a traffic stop on a silver Chevrolet Suburban with a California license plate, the Friday news release states.
The officers contacted Vasquez, the driver, and Quintero, the passenger, and neither men had identification. Upon searching the vehicle, which Vasquez consented to, the officers discovered various bundles of a white crystal-like substance.
The men were arrested and transported to the Prescott Valley Police Department. A complete search of the vehicle found 52 pounds of methamphetamine.
Vasquez and Quintero were booked into the Yavapai County jail in Camp Verde on charges of Transportation of Dangerous Drugs for sale, Class Two Felony; Possession of Dangerous Drugs for sale, Class Two Felony; and Possession of Dangerous Drugs, Class Six Felony.
The investigation is continuing.
Watch the Courier and dCourier.com for updates.
More like this story
SUBMIT FEEDBACK
Click Below to: