Kiwanis Club plans 71st auction; begins March 25
Money from sales goes toward supporting youth in Prescott area

Originally Published: March 22, 2019 8:33 p.m.
The Kiwanis Club of Prescott is holding its 71st annual auction with hundreds of items available over the course of two weeks.
Jim Tilley, a member of the Kiwanis Club of Prescott who has participated in the auction for more than three decades, said he is hopeful of reaching the $200,000 goal by the time it is all said and done.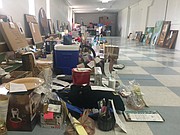 "The way solicitation is going and the way things are coming in, I think we have a good shot at that," Tilley said.
Last year, the auction raised $196,000. All the money that comes in from the auction goes to support youth in the Prescott Area, such as thousands of dollars in scholarships for college-bound graduates of local high schools, Tilley said. It also supports the Boys and Girls Club of Central Arizona, he said.
The event is scheduled for 7 to 10 p.m. Monday through Friday, March 25-29 and Monday through Friday, April 1-5. Tilley said among the interesting items available will be an HD Kindle Fire, hotel stays, Diamondbacks tickets, local and out-of-town golf packages and one-of-a-kind jewelry designed by local jewelers. Certificates for local restaurants and food will grouped together and referred to as feeding frenzies, he said.
Be a member of the Cataract Creek Gang for a day
The Williams-Grand Canyon News in conjunction with Courier Cares is offering a unique item in the Kiwanis Club of Prescott's 71st annual auction: the chance to be a member of the Cataract Creek Gang for a day.
The group acts in various shootouts in Williams and is responsible for "robbing" the passengers on their train ride back to town from a day at the Grand Canyon.
"It's a pretty unique thing," said Lew Rees, events and marketing director for Western News and Info. "I think that anybody who has a taste of the Old West and would have yearned to be in a John Wayne movie or a Clint Eastwood movie, they're going to get a chance to do it all day long."
The winning bidder will be able to go to Williams on a day chosen by the Cataract Creek Gang and the Grand Canyon Railway. They will get there by 8:30 a.m. and participate in the morning shootout, stop the train on horseback when it comes back from the Grand Canyon and rob the train and do a second shootout downtown in the evening. They will be provided with all the necessary Western gear.
"Almost always, those items go at or near full retail value, and the phones are so busy that people have trouble getting through," he said. "It's just a lot of fun to watch the feeding frenzies on the air."
Yavapai County Attorney Sheila Polk will be doing a series of public service announcement warnings on fentanyl during the auction as well.
Those looking to catch the auction can watch live on Channel 64 or on an HD stream at www.prescottkiwanisauction.com or by listening to KQNA 1130 AM. There will be 14 telephones standing by for people to call in their bids, and about 150 to 175 items will be auctioned off each night.
People interested in seeing what is available each night can visit the Grace Sparkes Activity Center, 824 E. Gurley St., until the auction starts each evening. The set will be up by 4 p.m., though anyone who wants to can stop by earlier during set up, Tilley said. Further, no later than 3:30 p.m. each day, pictures of some of the night's better items will be on the Prescott Kiwanis Facebook page, he said.

There are quite a few reasons to take part in the auction and bid on something you want, including supporting local youth, Tilley said.
"The secondary reason is it's fun and they tend to find interesting items that they will enjoy having at home," he said. "The third reason is it's very easy to sit back and watch it and pick up the phone and make a bid and wait to see if somebody outbids you."
For more information about the 71st annual Kiwanis auction, or to bid during auction nights, call 928-445-8700.
Related Stories
More like this story
SUBMIT FEEDBACK
Click Below to: