Oldest art guild in Arizona celebrates 70th anniversary
Mountain Artists Guild event is March 28

Originally Published: March 21, 2019 6:41 p.m.
Mountain Artists Guild celebrates its 70th anniversary this year, making it the oldest art guild in the state of Arizona.
From its founding as the Prescott Art League by a group that included Mabel Lawrence, Claire Dooner Phillips, George Phippen and Dr. Florence Yount, to the 70th anniversary celebration Thursday, March 28, the guild has had quite a lot of accomplishments.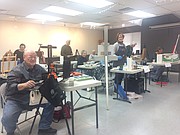 In 1950, the guild held the first ever art show on the courthouse plaza that became the annual August Arts & Crafts Festival and, in 1959, it developed an art therapy program for some patients at Yavapai County Hospital as well as awarded scholarships to cover tuition charges allowing for local high school students to take summer extension courses in watercolor and oil painting offered by the University of Arizona. The guild's first workshops were offered in 1980 and began awarding visual arts scholarships to high school and college students in 1994. Further, this is the 33rd year for the annual Art & Wine Festival in May.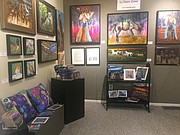 Since 2002, the guild has been in its location at 228 N. Alarcon St., continuing its mission as a nonprofit dedicated to providing education, support and training in all aspects of the arts through exhibits, workshops, scholarships, seminars and practical experience in the creation of artistic works.
"We're very embedded in the community," Mountain Artists Guild President Cathleen Rainey, said.
Lately though, Rainey said she's focusing on having a much bigger presence in the community and wants to do more outreach. Paul Monska and Craig Stilwell have been putting on veterans' art classes since last year and the guild has its kids camp, which Rainey said she wants to expand. The hope is to broaden the community art program and maybe even do an art program for seniors which would be therapeutic, she said.
There's also the guild's relationships with the community that Rainey said she wants to expand as well to offer more free classes on drawing and painting. It's all so when someone thinks of education and the arts in Prescott, they think of Mountain Artists Guild as the place to go, she said.
Celebrating 70 years even continues on with the guild's next show. It's called "Heritage" and begins Saturday, April 20.
"We're planning to have a special show with all of our old members, the ones that are lifetime members. They're our heritage," Rainey said. "We hope to have their work hanging during that timeframe too. we want to continue on the idea of our heritage."
The 70th anniversary celebration, held from 4 to 6 p.m., is an open house supported by the community, she said. It will have the Screamin' Eagles Jazz Band from Embry- Riddle Aeronautical University, food from El Gato Azul, and wine from Cellar 433 in Jerome.
At the same time, instructors who have taught in 2018 and 2019 will bring up to three paintings to show in the workshop, Vice President Dawn Zintel, said. They'll be coming from across the state.
"All of the galleries, including the classroom, will have … local art," she said.
For more information about Mountain Artists Guild, visit www.mountainartistsguild.com.
Follow Jason Wheeler on Twitter @PrescottWheels, reach him at 928-445-3333 ext. 2037.
More like this story
SUBMIT FEEDBACK
Click Below to: