At a Glance: Hear 'Elvis Presley' sing gospel music March 23
Kudos staff
Originally Published: March 21, 2019 6:19 p.m.
Hear 'Elvis Presley' sing gospel music
Lonely Street Productions is bringing Robert Shaw and the Lonely Street Band back to the Elks Theatre and Performing Arts Center Saturday, March 23, for "How Great Thou Art – The Gospel Music of Elvis Presley."
Featuring such hits as "Peace in the Valley," "Amazing Grace," and "How Great Thou Art," tickets for the 7 p.m. show are $25 for adults and $22 for seniors and are available online at www.prescottelkstheater.com, by calling 928-777-1370 or at the door one hour prior to the performance.
The Elks Theatre and Performing Arts Center is located at 117 E. Gurley St.
Learn bike safety Saturday
Bring your family to Mountain Valley Regional Rehabilitation Hospital, 3700 Windsong Drive, Saturday, March 23, for a free bike rodeo. Held from 10 a.m. to 1 p.m., the event is meant to teach children about biking skills and safety.
The event offers food, entertainment and fun with free helmets given away to each child while supplies last and each child who completes all the safety stations will be eligible to enter a raffle for a free bike.
Personnel from the Prescott Valley Police Department, Yavapai County Sheriff's Office and Central Arizona Fire and Medical Authority will be on site.
For more information, call Karen Russell at 602-540-5310.
Saturday talk features ghost towns
Author and historian Eric Berg will explore Arizona's wartime role by focusing on the stories of World War II sites that still have significant features that remain form the war period in "Ghost Towns of the Second World War."
Held at 1 p.m. Saturday, March 23, at the Phippen Museum, 4701 N. Highway 89, admission is free for museum members and children 12 and younger, $10 for general admission, $8 for seniors and veterans and $5 for students.
For more information, call Cynthia Jones at 928-778-1385.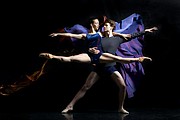 See ballet at Yavapai College
Ballet Victoria is performing Carl Orff's epic choral masterpiece, "Carmina Burana," twice at the Yavapai College Performing Arts Center this weekend. With a mix of dance and drama, Artistic Director Paul Destrooper explores and interprets the themes of power, corruption, over-indulgence, humor and beauty.
Performances are on Saturday, March 23, at 7 p.m. and Sunday, March 24, at 3 p.m. Tickets begin at $22 and are $10 for youth with a $4 service fee added to each ticket, available online at www.ycpac.com, by calling 928-776-2000 or at the box office, 1100 E. Sheldon St.
More like this story
SUBMIT FEEDBACK
Click Below to: