Cement truck rolls over on Prescott road
Towing crew overcomes challenging job

By
Max Efrein
|
mefrein
Originally Published: March 21, 2019 9:47 p.m.
Shortly before noon Tuesday, March 19, a fully-loaded cement truck rolled onto its side in Prescott.
The driver of the behemoth had apparently gone too fast around a sharp bend on Deep Well Ranch Road and lost control, police at the scene said.
Situations like this don't happen too often in Prescott, said Nathan Barto, Traffic Sergeant with Prescott Police Department (PPD).
"Maybe a couple times a year," he said.
When they do, special equipment capable of getting such a heavy vehicle back on its tires is needed. Only three of the eight towing companies PPD contracts with has such equipment, Barto said.
"[These cases] are certainly more intricate than the run-of-the-mill tow," he said.

In this instance, TNT Towing and Transport in Prescott Valley took the job. Within about 45 minutes of the accident, the company had a three-man crew on site with a 60-ton wrecker, a massive towing unit capable of hauling almost any load.
"It's a big boy," said Jerry Hemme, general manager of TNT Towing and Transportation.

After some quick planning, Hemme and the other two tow truck operators started their initial attack by attaching chains and cables to the underbelly of the cement truck, which they estimated weighed about 80,000 pounds.
"Other than oversized loads, that's probably as heavy as they come," Hemme said.
The chains and cables fed into three winches built into the wrecker. Each cable was fed through a snatch block pulley, making the rig capable of pulling up to about 270,000 pounds, Hemme said.
Complicating the situation, however, the cement truck had plowed into a soft soil bank adjacent the road when it crashed. In order for them to lift the truck back up, they first needed to drag it out of the hole.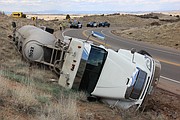 "When we tried to pull it, it wanted to tip back over," Hemme said. "If it would have been on the pavement, it would have been a lift and tow off."

The first attempt to drag the cement truck out of the hole was a notable failure. The truck didn't even budge and the wrecker, which weighs about 70,000 pounds, was instead getting pulled off the road despite having hydraulic legs planted on the pavement.
"We were like, really?" Hemme said. "The legs stabilize and keep the tow truck from going over."
The crew tried latching the cables to different parts of the cement truck, but nothing was making a difference.

It took about an hour of testing different strategies before the cement truck finally began to slide. From there, they were able to get enough leverage to begin tilting the cement truck up. As it slowly lifted, one could hear the tension in the cables tightening, almost like electricity crackling in the air.
As the cement truck settled on its ten tires, one of the tow truck operators congratulated his colleague working the hydraulics: "Nicely done!" Fred Walker exclaimed.
When asked if they had doubts at any point if they could get the job done, they each confidently said "No way."
"In our line of work, you have to keep trying different things till it works," said Eddie Rackliff, who operated the hydraulics throughout the operation.
As soon as traffic accident authorities finished documenting the incident, the tow truck crew hauled the cement truck off and Deep Well Ranch Road was reopened after being closed in both directions for about two hours.
After hearing about it, Matt Williams, owner of Nastow Towing and Recovery in Prescott, a competitor of TNT Towing and Transportation, empathized with what Hemme and his crew had to go through.
"Those are tough," Williams said. "Cement trucks are one of the heaviest things we can flip over. I've been there before, so I'm kind of glad I wasn't on it."
But there's no doubt that conquering such a feat comes with a degree of satisfaction.

"It's a rush," Hemme said.
Follow Max Efrein on Twitter @mefrein, email him at mefrein@prescottaz.com or call him at 928-445-3333 ext. 1105.
More like this story
SUBMIT FEEDBACK
Click Below to: