Prescott spikers sweep Leading Edge 3-0
Prep Boys Volleyball
By
Doug Cook
|
dougout_dc
Originally Published: March 20, 2019 11:53 p.m.
PRESCOTT — There were several light-hearted chants emanating from the Prescott boys volleyball team's bench and from its players against Leading Edge Academy-Gilbert Wednesday, March 20, at the Badgers' dome gym.
After connecting on an ace serve? "AYY-OH! … AYY-OH!" Following a particularly deceptive tap kill at the net? "Tip-tip, hooray!"
Photo Gallery
Prescott Vs Leading Edge Boys Volleyball 032019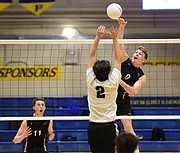 Those are two noteworthy examples that showed the fourth-year Prescott program's fun-loving approach to the sport was on full display – and for good reason.
"We have certainly found out that if our bench is more involved and more upbeat and keeping our players on the court upbeat, then we do better," Prescott outside hitter/middle hitter Trey Koehler said.
The Badgers (7-4, 0-0 Phoenix), who remained undefeated in power-point matches at 5-0, rolled to 25-4, 25-6 and 25-13 victories in the three games, dropping the 5A San Tan region Spartans to 0-5.
"It's great being undefeated," Badgers junior outside hitter Harris Temple said. "It gives us even more desire to be greater for the rest of the season and to put in work against teams that are better than us."
The Arizona Interscholastic Association (AIA) will release its initial power-point rankings for boys volleyball on its website, azpreps365.com, on Tuesday, March 26. In the 2018 season, the Badgers qualified for the state tournament for the first time, but they were a big underdog as a No. 15 seed.
This spring, Prescott plans to not only qualify as a higher seed, but at least win a first-round match. And the Badgers seem to possess the skill and talent to do so, led by Temple and senior setter Cole Fernandez, who finished with five kills, three aces and 15 digs on Wednesday.
"This is a really good group – we're a really close group, we're all friends," said Temple, who paced Prescott with 10 aces, eight kills, nine assists and a dig versus Leading Edge. "We've all known each other for a few years, and we just have fun out there and communicate."
Right-side hitter Matthew Grasso, outside hitter Lucas Forray, Koehler and outside hitter Easton Hoover round out Prescott's starting half-dozen. All of them are juniors.
"At the start of the season we were a bit shaky," Koehler said. "But now we are starting to build that chemistry and get our passes better so we can get our hitters going."
Prescott coach Josiah Ramirez said his offense is fairly strong, but that his team needs to improve its passing, blocking and defense to take the next step in its progression. Region play begins Thursday, April 4, versus Desert Edge at home.
"We should be in the top few [teams in the region]," Ramirez said. "We're not a middle-of-the-table to the bottom-of-the-table type of team in our region, but we're not the best. Millennium is pretty solid."
On the opposite end of the spectrum, Leading Edge, under coach Juan Duran, is building his program from the ground up. He has five sophomores and a junior, and only one of them, Michael Strauss, has played volleyball before.
The Spartans have competed valiantly this season, but they have been swept, 3-0, in each of their first five matches. They don't have a true setter or a middle blocker.
"I'm just trying to teach them the basics – passing, serving, being aggressive with the ball," said Duran, a former standout volleyball player at Mesa Westwood. "You might as well be aggressive, and something good might come out of it."
UP NEXT
Prescott visits 5A West Valley region member Notre Dame Prep (3-3) at 4:30 p.m. today, March 21, in Scottsdale.
Leading Edge heads to Arizona College Prep (2-3) of the 5A East Valley region at 5:30 p.m. today in Chandler.
Doug Cook is a sports reporter for The Daily Courier. Follow him on Twitter at @dougout_dc. Email him at dcook@prescottaz.com or call 928-445-3333, ext. 2039.
More like this story
SUBMIT FEEDBACK
Click Below to:
This Week's Circulars
To view money-saving ads...