Nearly 500 students homeless across Yavapai County
Homeless doesn't always mean out on the street, PUSD Homeless Program liaison says

Originally Published: March 19, 2019 8:19 p.m.
Two students in the Chino Valley Unified School District are currently living in a camper that belongs to a retired teacher.
They're able to do so because CVUSD Family Resource Specialist Laurie Marley recently started a host homes program where people can host an unaccompanied student or families.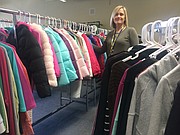 "A host home can be the home that you live in or it could be a camper on your property with hookups, a guest house or rental that you own," she said. "If you choose to host an unaccompanied student, usually he or she is 18 … he or she will not be able to pay rent but will be able to help with chores."
Those two students aren't alone. There are 487 homeless students across Yavapai County, 325 of them attend school in CVUSD while 87 go to school in Prescott Unified School District and 75 are part of Humboldt Unified School District.
Many of those students are doubled up, said PUSD Homeless Program Liaison and Family Resource Center Coordinator Kelly Mattox.
"We have this feeling like you're out on the street homeless," Mattox said. "That's not always the case."
The McKinney-Vento Homeless Assistance Act stipulates that homelessness alone is not a sufficient reason to separate students from the mainstream school environment. It defines homeless as either the students themselves or the students and their families being doubled up with family or friends due to economic hardship; temporary or shared housing or transitional living program; in a motel or hotel, campground or similar situation due to a lack of alternatives or at a bus station, park, car or abandoned building.
Even though students who are living doubled up have a roof over their head, it comes with many side effects, such as a lack of privacy, Mattox said.
"Even the ability to have technology to do homework can be in question," she said. "Thankfully we have some public areas that they can go to. For example, the library and even here at the Family Resource Center. If somebody wanted to come in and use our computers, that's what they're here for."
To help those families in need, PUSD and HUSD have their Family Resource Centers to which people can give donations. Further, CVUSD has its Homeless Program Marley said.
The PUSD Family Resource Center has a wish list that includes new clothing, new shoes in children's sizes one to 13 and adult sizes, one and a half to three inch three-ring binders, feminine hygiene products, paper towels, toilet paper, technical calculators for advanced math classes, personal or small hand sanitizers, Walmart gift cards for the "Shop with a Ranger" program, area food gift cards and ear buds.
The ear buds are because a lot of school work is now done on computers and technology, Mattox said. The students need them so they can sit next to their co-student and work on the program they need to be working on, she said.
The HUSD Family Resource Center takes new or clean gently used clothing items, said HUSD Homeless Program Liaison and Family Resource Center Coordinator Helene Tonnemacher.
Both Tonnemacher and Mattox said that the Family Resource Centers are not just for homeless families, but all families in need.
"The purpose is to come behind all families in our whole community to help them with necessities so that the students can go to school, have fresh clothes," Tonnemacher said.
As for the CVUSD's Homeless Program, donations can be monetary or items necessary for the students' success such as new toiletries; sanitary products for girls; new socks and underwear for boys and girls; new or gently used (clean) winter coats, jackets, scarves, hats, gloves and children's clothing; school supplies; new or gently used (clean) towels and washcloths, pillows and blankets; laundry soap; dish soap; wipes; grab and go type foods or gift cards to local restaurants.
MORE INFORMATION
For more information about HUSD's Family Resource Center, 6411 N. Robert Road in Building 400, Room 422, and the district's homeless program, call 928-759-5104.
There is also a smaller Family Resource Center at Bradshaw Mountain High School, 6000 E. Long Look Drive.
For more information about PUSD's Family Resource Center, 300 E. Gurley St., and the district's homeless program, call 928-445-5400 ext. 70130.
For more information about CVUSD's Homeless Program, call 928-583-5422.
SUBMIT FEEDBACK
Click Below to:
More like this story