Father and son arrested for theft of debit card from elderly Dewey man

Originally Published: March 18, 2019 5:20 p.m.
Updated as of Wednesday, March 20, 2019 2:15 PM
A father and son from Humboldt were arrested last week on multiple fraud, theft, and drug-related charges in the case involving a debit card stolen from an 86-year-old Dewey man.
The Yavapai County Sheriff's Office reported Monday, March 18, that Robert Urzua, 50, and Alex Urzua, 24, were taken into custody after a vehicle and home were searched during the investigation of a stolen debit card that was used for merchandize, gasoline, and fast food, starting March 1.
Last week, YCSO issued a news release and security photos, asking for the public's help in finding the people suspected of taking the debit card from the wallet of the elderly victim who lives in a Dewey group home.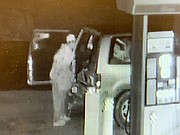 The suspects reportedly had used the debit card at various businesses, including Home Depot, Hobby Lobby, Burger King, McDonald's, Subway, Jack-in-the-Box, and Chevron – totaling about $1,200 in spending.
YCSO reported this week that deputies had spotted a white truck in Humboldt on March 16 that matched the description of a vehicle that Alex Urzua drives.
"Deputies conducted a traffic stop and Alex was the driver," the news release stated, adding that deputies found a methamphetamine pipe, a Burger King gift card (allegedly purchased with the victim's stolen bank card), methamphetamine packaging in the form of 100 small plastic baggies, and gas cans in the bed of the truck consistent with what was seen in the Chevron security video.
The news release added that Alex Urzua was arrested and booked into the Yavapai County jail in Camp Verde on charges of fraud, fraud schemes, theft, and possession of drug paraphernalia. He remains in custody on a $2,500 bond.
As the investigation moved forward, deputies determined that most of the items purchased with the victim's stolen bank card were for repairs at Robert Urzua's home, and that other stolen property would likely be found inside.
YCSO obtained a search warrant for Robert's home in a Humboldt neighborhood. "When the warrant was served, Robert refused to come to the door and was found hiding inside a locked closet," the release stated. "Once outside, he failed to follow directions and reasonable force was used to take him into custody."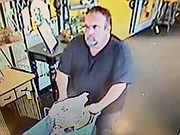 The release added that a search of the home revealed items from Hobby Lobby and Home Depot, allegedly purchased with the victim's bank card. Deputies reportedly also seized a methamphetamine pipe.
They arrested Robert Urzua on charges of fraud, theft, fraud schemes, possession of drug paraphernalia, and possession of marijuana. "Robert is on active probation and was out on bond regarding an unrelated case. His current bond is set at $5,000," the news release stated.
Related Stories
SUBMIT FEEDBACK
Click Below to:
More like this story