Why are flags at half-staff today, March 16, 2019
Interment for Marine killed in midair collision in December
Originally Published: March 16, 2019 1:22 a.m.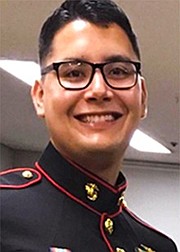 Gov. Doug Ducey has ordered that flags at all state buildings be lowered to half-staff from sunrise to sunset on Saturday, March 16, 2019, for the interment of Staff Sgt. Maximo Flores who died in a midair collision involving a Marine refueling aircraft and a fighter jet off the coast of Japan in December.
Individuals, businesses, and other organizations are encouraged to join in this tribute.
Flores, of Surprise, was among five Marines killed in December when their KC-130 Hercules refueling aircraft collided with an F/A-18 Hornet during regular training. The warplanes crashed into the sea south of Japan's Shikoku Island.
Flores served nine years in the Marine Corps and is survived by his wife.
The Associated Press contributed to this report.
SUBMIT FEEDBACK
Click Below to: