'Buckey' O'Neill, Prescott's most famous Irishman, still fascinates city

By
Nanci Hutson
|
HutsonNanci
Originally Published: March 16, 2019 7:52 p.m.
Updated as of Sunday, March 17, 2019 12:07 AM
Prescott's most famous Irishman who may, or may not, have been born in Ireland, most certainly, personified his family's roots with what local historians consider his own brand of Irish bravado.
Yavapai County's lead lawman in its frontier heyday and elected mayor of Prescott before the territorial capital earned its statehood, William "Buckey" O'Neill, is revered as a hometown hero, a vibrant personality who embraced any and all opportunities to serve and lead.
O'Neill, the Spanish-American War's first Volunteer Cavalry captain and one of future President Teddy Roosevelt's most respected "Arizona Rough Riders", was felled by a sniper's bullet in Cuba at the top of Kettle Hill. Historians suggest that moment ended a life full of potential and valor. Many suggest had the 38-year-old survived he might have become the first governor of the state of Arizona; statehood was something he yearned to see happen in his lifetime, historians said.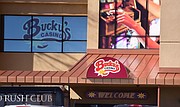 Educated as a lawyer in Washington, D.C., the one-time newspaper writer and editor also spent time as a prospector, court recorder and sheriff. He is heralded in many accounts as a creative and adventurous soul unafraid to take a gamble, be it playing a round of faro, venturing into politics or serving his country in war time.
At his death, O'Neill was married to Pauline Marie Schindler, a school teacher and suffragette he romanced while working as editor of the local livestock newspaper he founded, Hoof and Horn. The couple had two children, their first, Buckey Jr., died two weeks after his birth in January 1887 and the couple adopted Maurice in October 1897 just about a year before his death. O'Neill was buried in Cuba, and then a year later was reinterred at Arlington National Cemetery.
A fascination with O'Neill's larger-than-life persona and legend prompted American frontier life sculptor Solon Borglum to offer his services at a much reduced fee to a local committee that came to New York City shopping for a sculptor to memorialize O'Neill, according to an essay on Borglum's work at the Phippen Museum.
Borglum charged $10,000 for the bronze, a much reduced fee for work that today would equate to about $400,000.
In the years since Borglum sculpted the statute that appears to feature O'Neill pulling on the reins of a rearing horse, there has been much speculation about the representation. Some historians suggest it was meant to be a commemoration of the Rough Riders, not just O'Neill. The Borglum essay suggests the artist's intent was to honor O'Neill.
Get close to the statue and judge for yourself — the Rough Rider's face does seem to bear a resemblance to the Irish frontiersman whose cottage near the Bright Angel Trail at the Grand Canyon remains a popular tourist spot.
In his take, Sharlot Hall Museum Executive Director Fred Veil suggests O'Neill's lasting fame may be as an Arizona Rough Rider. Yet it is his local contributions that Veil said make a "more compelling argument for his standing as an icon of Prescott's rich and cultural and historic heritage."
O'Neill arrived in the Arizona territory at the age of 19, getting work as a typesetter at the Phoenix Herald and then later earning a promotion to editor at the Arizona Gazette. From there, O'Neill moved to Tombstone where he worked at the Tombstone Epitaph; some accounts speculate he might have been the reporter covering the renowned gunfight at the O.K. Corral in October 1881.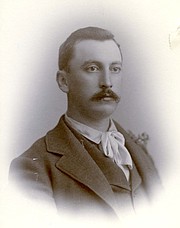 From there, O'Neill returned to Phoenix where he became a special deputy and was part of a gunfight with the city's marshal and a gang of cowboys.
In the spring of 1882, O'Neill landed in Prescott. He took a job working for the Arizona Miner before starting his newspaper and his political career, including a court clerkship for the Third Judicial District, according to Veil's research. In those years, O'Neill caught the political bug, and in 1886 became the city's probate judge. Two years later, O'Neill was elected county sheriff.
"It was as sheriff that O'Neill received wide publicity for his tenacious pursuit and capture of four men who had robbed an Atlantic & Pacific train at Canyon Diablo, northeast of Prescott, in 1889," Veil reported.
O'Neill indicated a desire for higher political office when he ran unsuccessfully on the Populist Party for territorial delegate to the United States Congress in 1894 and 1896. His politics did not jive with territorial Gov. Myron McCord, a Republican, but that did not stop him from winning his race for mayor, Veil reported.
"The outbreak of the Spanish-American War in 1898 provided a further opportunity for the adventurous, charismatic, and patriotic O'Neill," Veil said of his efforts to recruit volunteers for service in Cuba.
Today, O'Neill remains a beloved forefather. The local casino borrowed from his infamy. Its spelling, though, does not have an "E."
"He got his nickname from 'bucking the tiger' at the faro table," said Sharlot Hall spokesman Ken Leja of what was the frontier's most popular game of chance. "But they didn't know how to spell in those days."
Follow Nanci Hutson on Twitter @HutsonNanci. Reach her at 928-445-3333 ext. 2041.
More like this story
SUBMIT FEEDBACK
Click Below to: