Amazing Places: Copper Falls hike

Originally Published: March 16, 2019 8:33 p.m.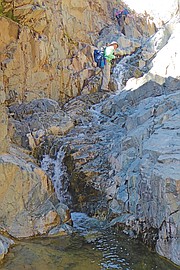 Today we'll take a hike, the Copper Falls hike.
For those of you who don't hike any more, you'll just have to sit back in your chair and imagine you are out on the trail, as you read my description and look at the photos. The first photo shows a flowing stream descending a cascade of waterfalls. If you have lived in Arizona for long, you'll know that water is always magic. This stream is ephemeral. It only flows after snow or rain has replenished the water table and the springs are gushing, or at least seeping. From the name of this hike, the stream should be "Copper Creek", but my research shows it doesn't have any official name.
In the last two centuries, immigrants to Arizona have sucked many rivers dry, with wells and dams for mining and agriculture — and also for all of us to drink! Not many Arizona rivers still flow perennially. They include the Verde, the Salt (before Granite Reef diversion dam near Mesa), the Hassayampa (when it isn't flowing underground) and a few others. I mustn't forget the mighty Colorado — but climate change and all of the states using their withdrawal rights are causing concern.
In the photo, you can see Georg in his green jacket, but if you look more carefully you may also see Larry M above him with two white marks on his outfit. They are two of the people in my adventurous hiking group — do NOT try this climbing yourself, it's risky and dangerous! Georg is our photographer, and Larry M is an explorer like me. He was the only person in our group who had visited these falls before (with his wife, Val). In future articles, I will describe other places Larry has found.
This hike is close to Camp Verde. The hiking trailhead (TH) is 40 miles from Prescott. For detailed directions and a hiking map, contact me directly or via the Courier's senior editor, Tim Wiederaenders (twieds@prescottaz.com). This hiking trail, and its well-appointed TH, was built recently (2017) through cooperation between locals and the Prescott National Forest. The total distance for the loop hike is about 4.3 miles, so not a strenuous hike. It is easy to follow, but could be muddy if wet. The first 3.4 miles of this loop is on trail 405, a non-motorized trail. That means it is only open to hikers, equestrians and mountain bikes. The last part is 0.9 miles long, on trail 545. That is a motorized trail, which means it is also open to ATVs and dirt bikes — we saw none.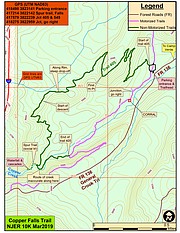 The second photo is one of the interesting views from the trail. We did this hike in early March — the threatening clouds that day show the weather was a bit iffy, but we lucked out and enjoyed lots of sun. The spur trail to the falls is 2¾ miles from the TH. Beyond the spur tail, there's a junction in ¾ mile with the motorized trail (an old road) that leads back to your car. If you don't find a flowing stream as you hike, either you are lost or you came at the wrong time of the year! I recommend you go before the end of May.
The TH is on Forest Road 136 — one mile of dirt from where it starts at a blacktop road. The dirt is a little rough but OK for sedans if you drive slowly. FR 136 generally follows the route of the General Crook Trail, an important military wagon road dating to the early 1870s. I will be writing articles about this historic road in the future.
Nigel Reynolds was born in England and has lived in Arizona for 40 years, and in Prescott for over 20 years. "Exploring is in my blood," he says. To see todays or previous articles with the photos in color, go online to "dcourier.com" and enter "Amazing Places" in the search-bar at top right — you'll need to be a subscriber.
DRIVING & HIKING DIRECTIONS TO COPPER FALLS
All mileages below are approximate. Total distance from Prescott to the trailhead is about 41 miles. One hiking map is attached.
DRIVING DIRECTIONS
From downtown Prescott, drive on AZ 69 towards Phoenix until you reach AZ 169 at the traffic light by Young's Farm (now called Mortimer's Farm). This distance is 16 miles.

Turn left (NE) onto AZ 169 (called Cherry Road) and drive for 15 miles to I-17.

Turn left (north) onto I-17 and drive 7 miles to exit 285, General Crook Trail. NOTE: this is the name of this piece of road, but it is NOT the route of the actual General Crook Trail

Turn right (east) off I-17 and drive 1½ miles to T-junction with AZ 260.

Turn right (SE) and drive ¼ mile to next junction, Oasis Road.

Turn right (south) onto Oasis Road and wind down to the bottom of the hill for about 0.4 miles to the junction with a dirt road on your right (west). This is FR 136 and should be signed for the Copper Canyon trailhead (TH).

Turn right onto the dirt road and drive for 0.8 miles to the TH, which will be on your right. Go over the cattle guard into the large parking area, surrounded by an exterior fence.


There is a restroom on your left. Trail 405 starts at the gate on your far left (NW).

See the attached map for the TH on FR 136, and the hiking trails.
HIKING DIRECTIONS
Go through the gate in the fence, with a sign on the far side for trail 405, restricted to hikers, equestrians and mountain bikers. If you have a GPS, reset the mileage to zero.

The attached map should be your guide, but the text below describes the route of the loop. The map shows creeks, contours and elevations, all of which are approximate.

The trail soon zigzags up gently to a high point at 3530', which overlooks a large basin below.

At the start of the trail there are many crucifixion thorn trees, with juniper, pinion pines, prickly pear and mormon tea (ephedra) later in the hike.

The trail then drops down and gently climbs up again, following the rim of the basin below – a steep drop off.


At 2 miles from the TH, the trail starts to wind down, steeply in places, crossing a number of drainages (dry) until it reaches a flowing stream (Copper Creek) in another ¾ mile. If there's no wet stream you are unlucky – it has dried up!

Turn right immediately after crossing the stream onto the spur trail (social tail, unofficial). The main trail (#405) goes to the left here, downstream. There are no signs at this point.

Follow the narrow social trail upstream, over one rocky scramble, to reach the waterfall (0.2 miles). WARNING: do NOT attempt to climb up the cascades at this point (end of spur trail).

Then return to the main trail with the stream on your left. After 0.3 miles, trail 405 ends at a T-junction with motorized trail 545, an old dirt road. The only sign here is for trail 405, facing back to the falls. Just before this junction you may notice some man-made walls that create a level area. There was probably a cabin here at one time.

Turn left (NE) on the motorized trail. The trail crosses the creek (now 3.7 miles from TH), just past large sycamore trees. At this point, the creek was dry (had disappeared underground).

Continue on the old road, going past a rusty metal tank, to a corral on your right.

There's a Y shaped road junction 0.3 miles past the corral. The left turn is marked as trail 545. The right junction is marked as a motorized trail but no number. Go right for the shorter route to the TH. Your vehicle should be visible soon.

When you can see the TH fence, turn left off the old road onto a single-track trail to your car.
More like this story
SUBMIT FEEDBACK
Click Below to: