Smoki Museum auction features hundreds of rugs, art pieces
One-of-a-kind pieces available

Originally Published: March 14, 2019 9:05 p.m.
The Smoki Museum's 22nd annual Spring Navajo Rug and Indian Art Auction on Friday and Saturday, March 15-16, will feature hundreds of rugs and unique pieces of art.
In all, 300 rugs and 100 pieces of art will be available on Friday and 100 more on Saturday, Smoki Museum Executive Director Cindy Gresser said.
It feels awesome to continue the spring auction in its 22nd year, Gresser added. Not only is it a chance to buy items at half the price they usually are in Santa Fe, New Mexico, but it helps keep alive the art of creating these rugs and pieces of art.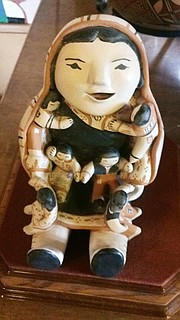 "(People) have the perception that native culture is dead and dying," Gresser said. "But it is growing, expanding, living, breathing and becoming more vibrant every day."
One of the rugs does include a pair of sacred Navajo emblems called "whirling logs" that represent humanity and life that are still used for healing in many ceremonies, according to the Associated Press. The "whirling logs" do resemble swastikas, but the Navajo people and other cultures and indigenous people used the design long before it became the symbol of Nazi Germany.
A couple of Storyteller dolls by Marilyn Henderson and Ada Suina are among the available art. A Storyteller is a figure of a man or woman whose mouth is always open and they are surrounded by figures of children or other things listening to the storyteller.
The amount that comes in from the auctions varies, but always goes to paying for the Smoki Museum's general operations to carry out its mission of instilling understanding and respect for the indigenous cultures of the Southwest, Gresser said. Everything in the auction is authenticated, appropriately priced and ensured that the pieces are something the public will acquire, love and treasure for a long time, she added.
"These are objects that will never be duplicated again. They're unique, they're special," Gresser said.
"You'll never get another sunbird pot like that pot, you'll never get another Ada Suina Storyteller exactly like that. You may get something similar, but you will never get that one."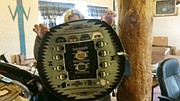 For anyone who loves and wants interesting and unique Native American art, the Smoki Museum's Navajo Rug and Indian Art Auction is the best opportunity to get some at the best price possible in the Southwest, she said.
The auction begins at 5 p.m. Friday in the museum's Pueblo building. People will also have a chance to preview the pieces available in Saturday's auction, which begins at noon following more time to preview beginning at 9 a.m.
For more information about the Smoki Museum's 22nd annual Spring Navajo Rug and Indian Art Auction, visit www.smokimuseum.org. The Smoki Museum is located at 147 N. Arizona Ave.
More like this story
SUBMIT FEEDBACK
Click Below to: