Pinon Oaks home engulfed in early morning blaze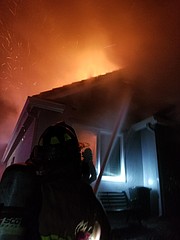 Three people escaped a house fire in the early morning hours Thursday, March 14, with no serious injuries.
The homeowner's daughter awoke about 3:25 a.m. to crackling or popping noises at the residence in the Pinon Oaks subdivision in north Prescott, said Prescott Fire Chief Don Devendorf in a March 15 press release. She looked out the window and saw flames in the garage, then woke her parents and they all exited the house.
There was no smoke in the living area of the house to set off the smoke alarms even though the fire was well established, Devendorf said.
Three engine companies, a truck company, a battalion chief, Prescott police officers, an ambulance, and other support personnel arrived on the scene to find heavy smoke and flames coming from the attached garage and roof of the home.
Because of the large amount of involvement and the fact that the fire was strongly established in the entire attic, firefighters began a defensive firefighting strategy using large amounts of water from the outside of the building, including an aerial stream from a truck company. The fire was knocked down in about an hour with no injuries to firefighters.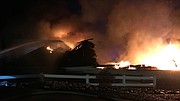 The homeowner breathed in some smoke and singed his hair while attempting to use a garden hose to keep the fire in check, but did not require any treatment, Devendorf said.
Devendorf estimates the damage at about $500,000 as the house sustained severe damage and could be a total loss. A significant amount of personal property was removed from the home, he added.
At one point, water froze on the steep concrete driveway causing hazardous conditions for firefighters and operations were put on hold for a short time. Fire personnel remained on the scene throughout the day to extinguish any hidden fires since the roof had collapsed and covered burning material underneath it.
Early investigation revealed the area of origin was in the garage where investigators found a melted trash can. The homeowner said he had been working on one of his vehicles earlier in the day and placed oily rags, solvent, and mineral spirits in the trash can.
"While it is believed that spontaneous heating of the rags has a strong potential for being the cause of the fire, further investigation will take place in an attempt to confirm that opinion," Devendorf stated.
He advises people that whenever using solvents, mineral spirits, oily rags, linseed oil, and other like substances, the rags that have those chemicals on them should either be stored in a sealed steel container until laundered or spread out outside to dry to allow the chemicals to become inert before disposing of the rags.
Follow Sue Tone on Twitter @ToneNotes. Reach her at stone@prescottaz.com or 928-445-3333, ext. 2043.
More like this story
SUBMIT FEEDBACK
Click Below to:
This Week's Circulars
To view money-saving ads...