Frank Luke Jr. featured in Sharlot Hall lecture
First aviator to be recognized with Congressional Medal of Honor

Originally Published: March 14, 2019 11 p.m.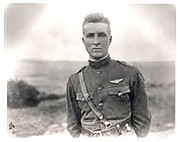 Frank Luke Jr., America's first aviator to be recognized with the Congressional Medal of Honor, is set to be the subject of a lecture at Sharlot Hall Museum this weekend.
Hosted by Keith Warren Lloyd, author of "Above and Beyond," the lecture will tell the story of Luke from his Phoenix roots to the Murvaux village of France to the naming of Luke Air Force Base in his honor, according to a news release from Ken Leja, media and marketing manager for Sharlot Hall Museum.
"At 21 years of age, Frank Luke, Jr., had a swagger and self-confidence that raised the ire of his Ivy League educated squadron mates," the release states. "Lloyd will highlight the torrid life and tragic end of this young man from Arizona, considered the most daring American aviator over Europe's battle worn skies of World War One."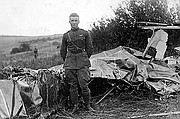 Luke volunteered for pilot training in the newly formed aviation section of the U.S. Army Signal Corps when America entered the Great War in April 1917 and was posted to the 27th Aero Squadron in France on the Western Front. He flew in the open cockpit of a Spad XIII, a French-built biplane with American markings and accomplished feats that would establish his place in aviation history.
It was his reckless bravado that set him further apart from other aviators as well as he earned the nickname "Arizona Balloon Buster."
"German drachen balloons were equipped with a gondola for an observer and tethered to the ground," the release states. "These aerial spotting platforms were a highly valued military asset, ringed with anti-aircraft guns and protected by German fighter planes."
Though most American pilots considered attacking the balloons a suicide mission, Luke did not and destroyed eight of them in the span of eight days.
For this story, plus more about Luke, attend the free lecture at 2 p.m. Saturday, March 16, in the West Gallery. Seating is limited. Sharlot Hall Museum is located at 415 W. Gurley St. For more information, call the museum at 928-445-3122.
More like this story
SUBMIT FEEDBACK
Click Below to:
This Week's Circulars
To view money-saving ads...