Crawl along for St. Patrick's Day
Murphy's rejoins pub crawl
Originally Published: March 14, 2019 10:32 p.m.
Downtown Prescott may not be the Emerald Isle, but it has plenty of St. Patrick's Day enthusiasm with the 2019 St. Patrick's Day Pub Crawl this weekend.
This year, it's organized by Josh Makrauer and Susan Roberts, owners of Jersey Lilly Saloon, and Matt Brassard, co-owner of Matt's Saloon.
One thing they've worked on to make it a better event is preregistration, which Makrauer said will alleviate some of the stress on people working the sign up point. There's also going to be more people working signups on the day of, he said.
Murphy's is back this year as well after not having any involvement in the Pub Crawl for the last couple of years.
"They didn't want to be involved for different reasons but this year we're all good," Roberts said. "It's always been tradition that it started at Murphy's and that's how it went down. They're really excited about it too."
Held from 2 to 7 p.m. Sunday, March 17, this year's locations include Murphy's, 201 N. Cortez St.; The Office, 128 N. Cortez St.; Gurley St. Grill, 230 W. Gurley St.; Park Plaza Liquor & Deli, 402 W. Goodwin St.; Bird Cage Saloon, 160 S. Montezuma St.; Whiskey Row Pub, 144 S. Montezuma St.; The Palace Restaurant & Saloon, 120 S. Montezuma St.; Matt's Saloon, 112 S. Montezuma St.; and Jersey Lilly Saloon, 116 S. Montezuma St.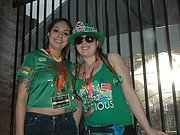 Participants will receive a punch card and the first 500 participants to get all nine punches can go to Jersey Lilly Saloon or Matt's Saloon to receive a free 2019 St. Patrick's Day Pub Crawl T-Shirt. All participants who get all nine punches will be entered to win a custom Irish dart board that will be raffled off at 8 p.m. at Jersey Lilly Saloon.
There will be free cab rides available for participants and all the designated drivers will be provided free soft drinks and water at all the participating locations. For the cab rides, which are from 7 to 11 p.m., all people have to do is to show their punch cards to the Dial-A-Ride cab drivers and all the designated drivers have to do is let the bartenders and wait staff know they are designated drivers.
The drive to bring the Pub Crawl back to what it used to be is because they've all been a part of the town for so long, Roberts said.
"We knew what it used to be," Roberts said. "Why reinvent the wheel when it was successful before and I think the locals like that tradition so we're trying to make sure they get what they want."
There'll also be special music at some of the locations, such as Central Arizona Pipes and Drums performing at 7 p.m. at Matt's Saloon. Some of the venues will also have specialty items in the way of Irish food, Makrauer said.
The St. Patrick's Day Pub Crawl seems like the one day a year that many locals head to Whiskey Row when they don't normally during other times of the year, Roberts said. It's fun to see them, she said with Makrauer mentioning it's an opportune time to try something new.
"It's going to be a good time to get out and get around town to where you might not normally go," he said.
Preregistration is at Jersey Lilly Saloon or Matt's Saloon through the end of Saturday, March 16. For more information about the 2019 Whiskey Row Pub Craw, visit www.facebook.com/st.patricksdaypubcrawlprescottaz.
SUBMIT FEEDBACK
Click Below to: