CHEW ON THIS: Matt's Saloon: Prescott's country bar

Originally Published: March 14, 2019 10:07 p.m.
The beauty of Whiskey Row is that every bar along the row has its own niche with its own clientele and Matt's Saloon is no different, said co-owner Matt Brassard.
"It's very important to have that different offering of different types of music and different atmospheres," Brassard said. "If you want a quieter evening, lounge type, you're going to go to The Point or if you want rock 'n' roll, you're going to go to the Bird Cage or if you want country, you're going to come to Matt's."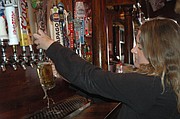 The bar has been Matt's Saloon since 1962 and became a bar soon after Prohibition ended in the early 1930s, he said. Before then, it was a mercantile. Brassard and his business partner, Marco Espitia, have owned it since 2002.
Back then, they were working in the bar as bartenders and he was going to school at Embry-Riddle Aeronautical University, Brassard said.
"Things just kind of happened," he said. "We opened upstairs first as Doc Holliday's in 2002 and that was successful … next thing you know, we bought Matt's."
The two of them not only enjoy what they do, but enjoy meeting new people and seeing new faces coming in from all the tourism and special events that go on in Prescott, Brassard said. This time of year is when Prescott sees more tourism and people who haven't been to Matt's Saloon since last summer or spring start coming by again, making it like a reunion, he said.
They're very much about tradition as well and try to keep things going on as much as possible, Brassard said. That's why they took over the Whiskey Row Boot Drop as far as organizing it, he said. It's a great event and important for Prescott to have those kind of mainstay events that people look forward to every year, he said. Brassard has also been one of the organizers of the St. Patrick's Day Pub Crawl for the last couple years.
One aspect making the bar unique is it's the only place in Prescott that has off-track horse betting, open seven days a week, he said. It also has a raised stage for bands performing at the bar to play looking over the crowd.
"I think the band draws energy off of the crowd being kind of elevated like that and I think the crowd draws energy from the band," Brassard said. "That aspect of it is really awesome."
They pride themselves on their music and being consistent with live music, he said.
People know if they're going to Matt's Saloon on a Friday or Saturday night, they're going to hear top-notch country music with a little bit of southern rock, Brassard said.
Looking ahead, Brassard said they just want to continue to keep up the historical aspect of Matt's Saloon while also keeping up with the times. It's about maintaining a fine balance of making sure it doesn't feel like a modern bar when you walk through the doors while also having some modern pleasures, he said.
Matt's Saloon is located at 112 S. Montezuma St. and is open from 11 a.m. to 2 a.m. daily. The bar can be reached at 928-771-8788 and found online at www.mattssaloon.com.
More like this story
SUBMIT FEEDBACK
Click Below to:
This Week's Circulars
To view money-saving ads...